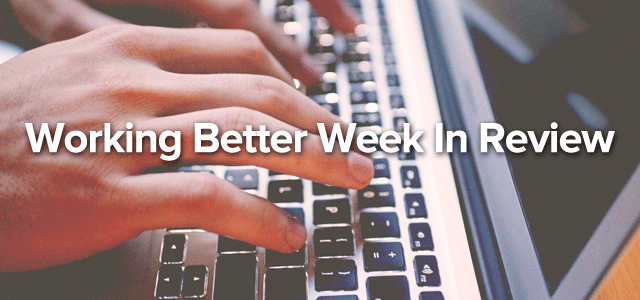 Every week, we scour the internet for the best tips, tricks and advice that you can use to work better and elevate your workplace.
Welcome to the weekend. Don't worry, I'm not here to make you think too hard. I just wanted to share a few things I came across online this week that I didn't have a chance to post about yet. Hopefully you find something useful in here you can take to work on Monday and use to work better. (And if you do, I would love it if you shared this post.)
Tips For Working Better
Favorite Tweets
The One Key Thing These Workplace Gurus Recommend Doing Each Day for Business Success http://t.co/5peo1P7riE

— Jesse Sostrin (@jessesostrin) January 19, 2015
Thinking of switching? 5 tips for transitioning to a standing #desk from @mbadore: http://t.co/8VsLMM5FdH

— Office Essentials (@OE_Rethink) January 30, 2015
New @BUNN brewers and airpots at @FrontenacBank soon to be filled w/ @Kaldis_Coffee provided by @OE_Rethink pic.twitter.com/qJq4O4ZGIP

— Clean Bean (@OE_Cleanbean) January 23, 2015
It was a bittersweet afternoon at OE as we said goodbye to BJ, who is retiring after a long career. Good luck! pic.twitter.com/rQkmI6AAwg

— Office Essentials (@OE_Rethink) January 30, 2015
Here's what we posted, in case you missed anything.
The Ultimate Guide of What Not To Touch At The Office During Flu Season; These are The Germiest Places in the Office
Two Really Simple Ways To Make You And Your Data Hacker Proof
Have a Great Weekend!
---