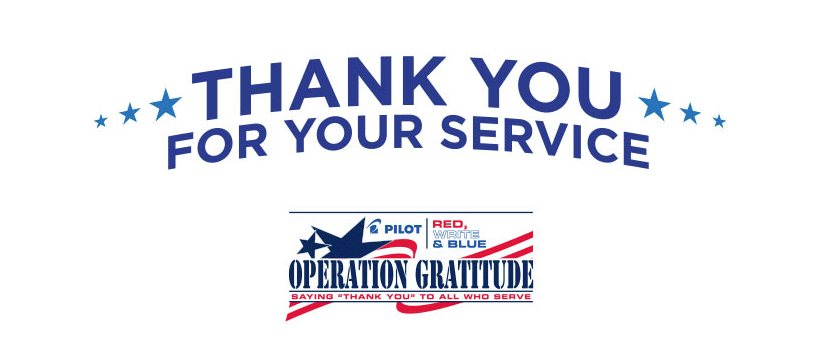 We love to spread the word when one of our office supplies partners is doing something great. This initiative by Pilot Pen is pretty great.
As the United States remembers those who have made the ultimate sacrifice this Memorial Day, Pilot Pen and Operation Gratitude – a national organization that assembles and distributes personalized care packages to service members and veterans – have joined forces for a second year to acknowledge and thank those individuals who work tirelessly for protecting our freedom every day through the Red, Write and Blue Initiative.
Through this initiative, Pilot Pen and Operation Gratitude invite Americans to put pen to paper and hand write letters of thanks to service members, veterans, and first responders. Thank you letters are often some of the most valued items in Operation Gratitude's care packages and are a perfect way to express your personal appreciation to these brave men and women. Those interested in participating can visit PowertothePen.com/Gratitude to download thank you letter stationery and to learn more about the initiative.
This year, Pilot Pen has expanded their partnership with Operation Gratitude, increasing their donation to more than 600,000 CAMO pens (valued at nearly $2.4 million) for inclusion in every single care package. Pilot Pen aims to assist with service members' everyday writing needs and to provide a tool for handwritten communication with their loved ones back home.
For more information, please follow Pilot Pen and Operation Gratitude on social media at Facebook.com/PilotPen or @PilotPenUSA and @OpGratitude on Instagram and Twitter, and encourage others to pen it forward to support members of the military this year.