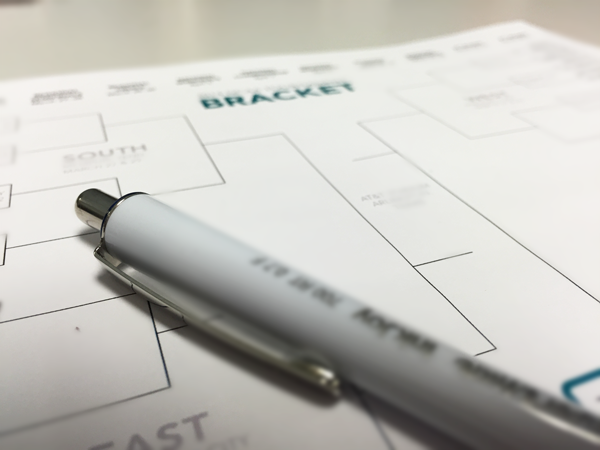 Besides the arrival of spring, there are two things you can count on every time the calendar flips over to March. The NCAA college basketball tournament, and a stream of news reports about whether allowing employees to take part in "March Madness" activities at work is a good or bad thing for our overall productivity.
There is no doubt that March Madness has become a huge cultural phenomenon. Each year somewhere around 70 million brackets are filled out. The reason work even enters the discussion is because many of the first and second round games are played on Thursday and Friday during the typical workday hours for most people.
Beyond those 70 million brackets, almost 100 million people tune in to watch the games. And while some cynics estimate the cost of all that lost productivity in the billions of dollars, it's almost impossible for bosses to prevent their employees from sneaking a peek at the games, and data suggests offices that trust their workers enough to let them watch a little hoops will come out ahead in the long run.
March Madness…workplace productivity killer?
According to a new survey by staffing company OfficeTeam, nearly half of professionals (46%) are all-in when it comes to celebrating sporting events like March Madness in the office, and another third (33%) aren't big fans but will play along. About 62% of workers said they check scores while at the office.
"While employers may worry about events like March Madness being a distraction in the office, allowing workers to enjoy sports-related activities for even a few minutes can be time well spent," Brandi Britton, a district president for OfficeTeam, said in a statement. "Staff will appreciate the opportunity to bond with colleagues and return to their desks rejuvenated."
In less tolerant workplaces, 23% said they have to watch in secret, with one in five saying they've had to resort to watching games in the bathroom at work.
In another survery, 68% of workers said watching games increases or has no effect on their productivity. While one in five workers said they'll work fewer hours during the tournament, although, about the same number of workers said they'd come in early or work later to make up for time spent watching games.
Watching the tournament boosts morale
Watching tournament games at work actually does seem to boost attitudes. Last year, a survey released by HR and staffing company Randstad U.S. found that 89% of workers said participating in March Madness activities helped boost morale, and 73% said they actually looked forward to coming to work more.
Bottom line – let workers watch
The message for stricter workplaces seems to be that it's happening anyway, so you are probably better off embracing the morale boost than worrying about the lost productivity.
Besides, most employees said they plan to make up for lost time. Good workers won't miss a deadline over the tournament, even if they may take an extra break this week.
By the way, if you're like me and not the biggest college basketball fan, you may need a little assistance with your bracket. I found these articles helpful: How to Win Your Office NCAA Pool: Use Game Theory, Pick Duke and this one: March Madness 2019: Jerry Palm's 5 bracket rules to pick by, so you can float, not sink, in your office pool.