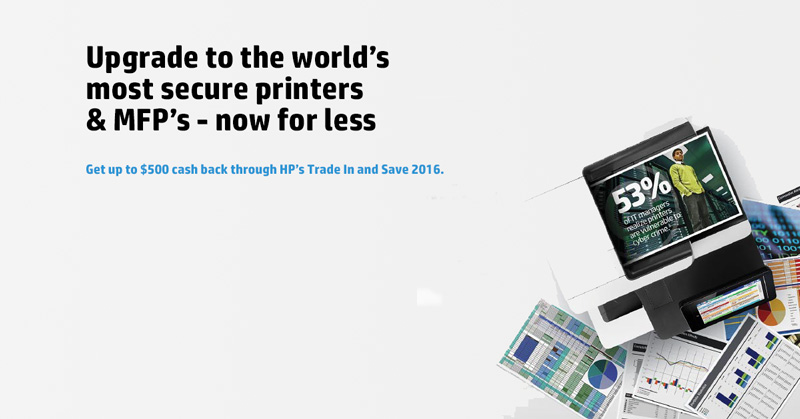 Act now. HP Trade In and Save Offer valid June 15, 2016 – December 31, 2016
New enterprise HP LaserJets with JetIntelligence provide the industry's deepest printer security. For a limited time our HP Trade In and Save 2016 promotion, you can purchase an eligible HP MFP or printer from Office Essentials and help reduce your risk of a printer security attack – and get up to $500 back with the trade-in of any used printer.


It's easier than you think.
Step 1
Purchase a new qualifying HP LaserJet or PageWide device.
See the full list of eligible products.
Step 2
Complete your claim form.
Step 3
Pack your old eligible trade-in product for free shipping.
See the full list of qualified trade-in products.
Step 4
Receive your cash back.
Note: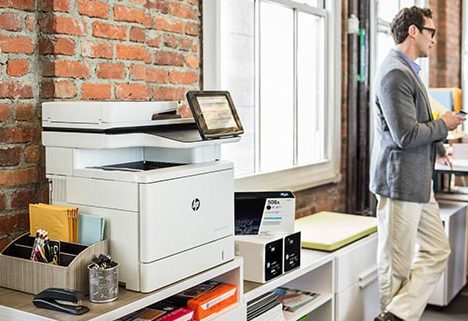 Shop eligible products
Upgrade now and get up to $500 cash back with the trade-in of your old printer. Browse the list of eligible HP products – including the industry's most secure printers and MFPs.

Product return & recycling
Office Essentials ensures that returned products are recycled in an environmentally friendly way, processing them to recover valuable plastics and metals for new products and diverting millions of tons of waste from landfills.
Access more savings
Returning a non-HP product? You may be eligible for an additional rebate of up to $50 based on the product traded in. Need supplies? Get an additional $15 rebate when you purchase a compatible Original HP ink or toner cartridge.
Contact Office Essentials today to learn more.