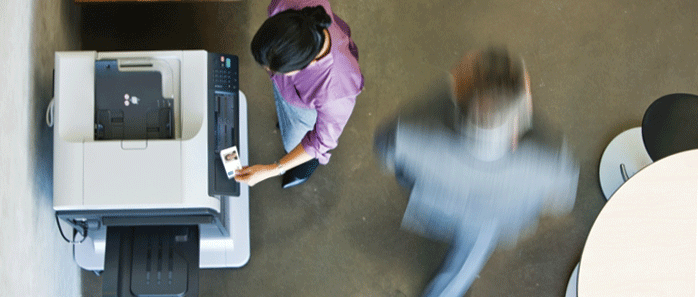 It may seem like you keep hearing about how no one prints anything these days, but in large companies, that is not case. Employees still do print, copy, fax and scan quite a bit. And while most companies have moved from stand-alone printers to networked multifunction machines, which do make life easier for employees, they are likely not being optimized to their full extent.
The inspiration for this post comes from Xerox's Jim Muzyka, in an article on Forbes, and from it I have come up with a list of ways companies can harness the technology in their printers to save their businesses time, costs, and carbon. (Or what we call Making the Smartchoice. It's our entire mission, you should check it out.)
Make saving on print company policy and communicate it
Whether that means strict guidelines on exactly what can be printed in color, or simply sharing tips and tricks about reducing print, share the information with your users.
Scan and email, a lot
Want to share a report for a meeting? Scan and email it to yourself and the other participants rather than pass out hard copies.
Look into Managed Print Services
Don't be put off by the official sounding name — and definitely be careful not to get oversold an elaborate solution you don't really need. What we're basically talking about is a small piece of software you install that helps you define, measure, analyze, optimize, control, maintain and improve your organization's print fleet.
Choose the right print vendor
Anyone can sell you a toner cartridge. You need a partner with a proven reputation for having your best interests in mind at all times. A partner that will work with you to make sure that you have the right information, technology and services in place to reach your goals.
Measure your progress
Once you define those goals, you need to measure them to track your progress and realize real savings. If you partnered with the right print vendor, this step is handled for you.
Start Saving Today
Office Essentials can help your company do everything listed here. Saving companies time, costs and carbon is everything we do. And don't worry, we won't come in and hand you a list of massive changes to make; we'll learn your processes and work with you to come up with the right plan for your needs. We've helped some of the biggest and best companies in St. Louis and Kansas City with their printing need, please contact us to see how we can help you.
---