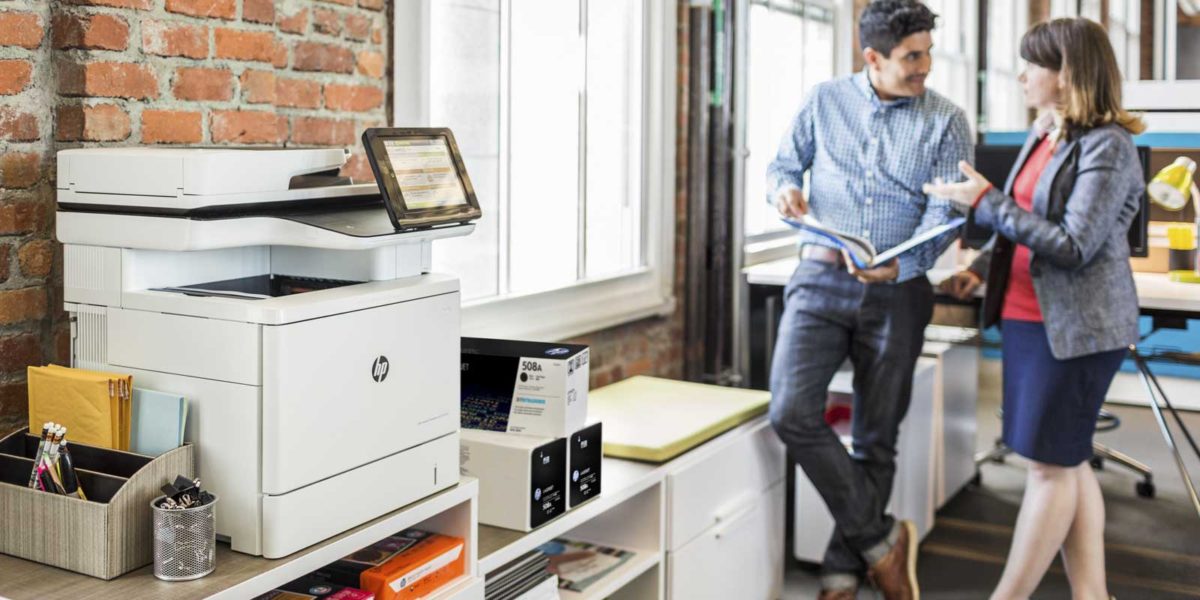 Last Friday, many popular internet sites were taken down or slowed to a crawl by a cyber attack.
This attack used a new type of malware that takes control of millions of devices connected to the internet — including routers, baby monitors, and cameras — without their owners' knowledge.
The attack was aimed at a New Hampshire tech company called Dyn, likely because they route and optimize traffic for a who's who list of major internet companies like Airbnb, Etsy, Spotify, and Twitter, as well as popular news sites like The New York Times, The Financial Times and CNBC.com.
The infected devices were turned into a virtual army that worked together to overwhelm Dyn's systems with junk traffic, crippling access to their clients' sites for several hours. The FBI and the Department of Homeland Security are investigating the attack.
This attack didn't happen to involve printers, but it easily could have. Much like a PC, or any other device connected to the internet, printers are vulnerable to cyber attack. And if your printers are connected to your network, your network is vulnerable, too.
Want to learn more about printer security? Experts from HP are always on call. Email us.
Risks and costs of unprotected printing environments
Cyber crime, internal breaches, compliance infringement, and more can hurt your business, and while most IT departments do a good job of protecting their PCs, they are effectively leaving their back door open by not protecting their printer fleet.
60% of companies surveyed had a data breach involving printers
73% of chief information security officers expect a major security breach within a year
64% of IT managers state their printers are likely infected with malware
It all adds up to financial loss

:
Fines
Loss of business
Damaged reputation
Class-action lawsuits
$7.7M 
Average annual cost 
of cyber crime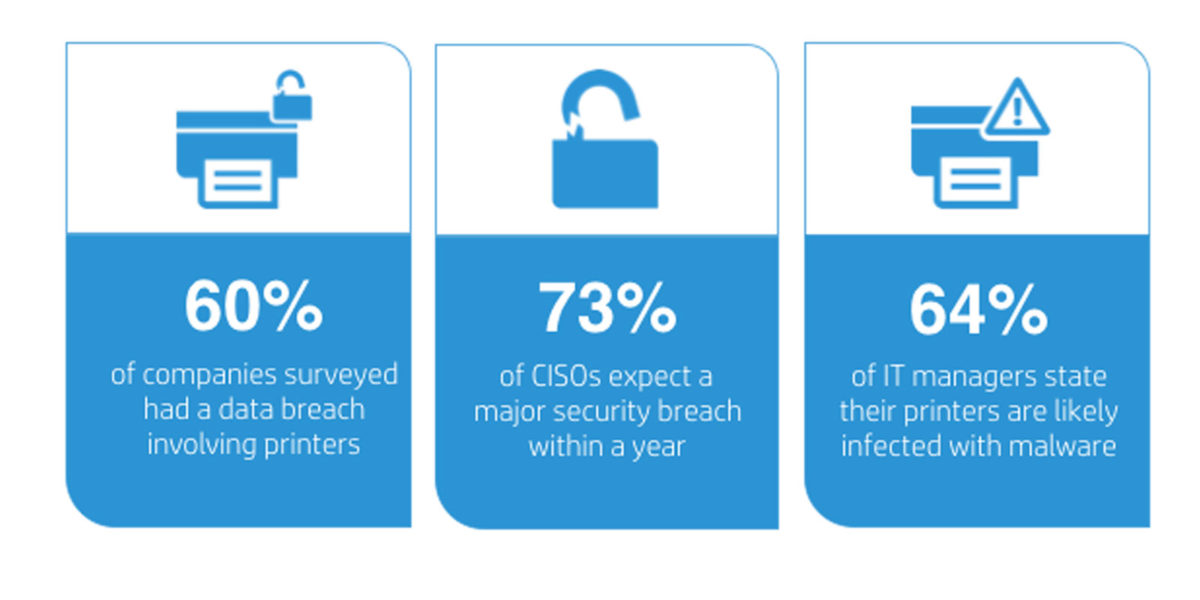 HP printers with FutureSmart deliver the industry's deepest printer security
The latest generation of HP Enterprise printers are unique in the marketplace because they offer three key technologies together designed to thwart attackers' efforts and self-heal. These features automatically trigger a reboot in the event of an attack or anomaly.
After a reboot occurs, HP JetAdvantage Security Manager automatically assesses and, if necessary, remediates device security settings to comply with pre-established company policies.
There's no need for IT to intervene. Administrators can be notified via Security Information and Event Management (SIEM) tools such as ArcSight.
[Tweet "47% of IT managers don't realize printers are vulnerable to cyber crime."]
3 Steps to a Secure Device
HP Sure Start: validates the integrity of the BIOS code. If the BIOS is compromised, HP Sure Start reboots the device and loads a safe, "golden copy" of the BIOS.

Whitelisting: During startup, the firmware is checked to ensure that it is authentic, known-good code—digitally signed by HP.

Run-time Intrusion Detection: Constantly monitors and detects anomalies during complex firmware and memory operations. In the event of an intrusion, the device automatically reboots.
HP Printer Security Video
More Information
We're one of the largest independent HP resellers in the Midwest, and we'd love a chance to show you why. Email us today.