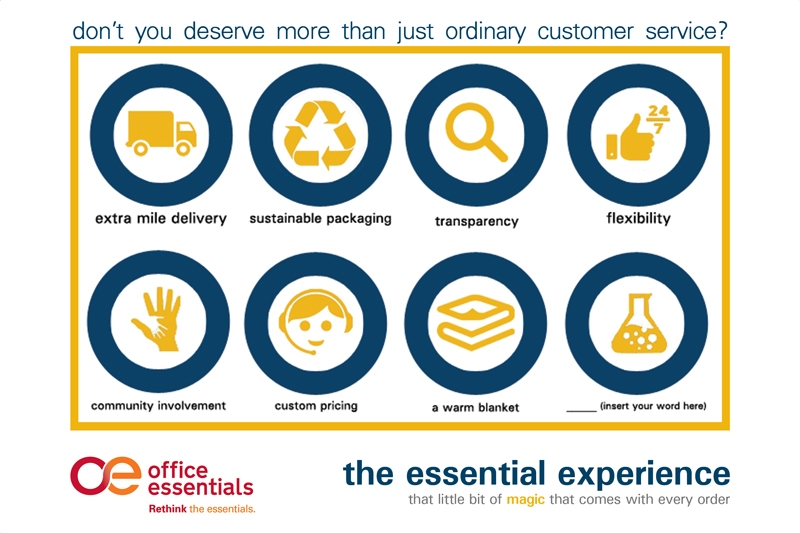 Office Essentials (OE) is a national business supply and services company rich in experience with a fresh approach to taking care of our customers. At OE we help you rethink the procurement process and find a smart, imaginative way to weave together your business' wants and needs. We work with you to develop a unique plan to cut time, costs and carbon. From the products you choose, to the way they are ordered, delivered and processed, we're here to help you solve your challenges while challenging the way you think about the Essentials.
Working with Office Essentials has many benefits; the following are key reasons why customers like you continue to choose us:
Honest pricing, unique to your needs
OE will help you rethink the total cost of business supplies to minimize hard costs such as product spend and soft costs like transactional vendor expenses.
• We leverage over 12 billion dollars in purchasing power to provide our customers the most aggressive pricing program available in the market place.
• We only work with businesses. This means we do not have the draining overhead and expenses that come with operating a retail division. For the big box companies, these types of expenses consume profit and resources and force them to increase margins on their business clients.
• You will pay custom pricing on items unique to your business which means we won't bait-n-switch products to deliver what we want to sell versus what your end-users ordered.
• We can help you reduce renegade spending outside of your custom items by creating a cost containment catalog available in hard copy or online to help direct your employees to good, quality product solutions.
Customer Service like you read about
Developing a dynamic, relevant and cost saving pricing program for your company is critical. However our service, what our customers call The Essential ExperienceTM, is what truly separates OE from the crowd. It's where we shine and why the customer hearts we win rarely ever wander.
Here's what is included in The Essential ExperienceTM
• The Flexibility to Take Care of You: We do what the competition says "can't be done." We are agile and flexible enough to customize solutions to fit your every need, quickly and without a headache.
• The Warm Blanket of Complete Customer Care: We have an outstanding customer care team, based right here in Missouri. Your dedicated team answers calls within 2-3 rings, never sends you into voicemail and always follows up within 2 hours or less – that said, our research shows that 80% of your questions are answered in 23.5 seconds or less. Most importantly, with direction from your Account Manager, Customer Care gets to know your company – your wants, needs, processes, and personality. They are empowered to make decisions quickly and efficiently. In other words, your needs never get caught in red tape, we never script answers, and our care team actually gets rewarded for spending more (not less) time with you.
• Keeping it Real 24/7: As your dedicated sales representative I am available to you 24/7. I am the Quarterback working to get product questions answered, special delivery needs coordinated, reporting for budgets run, or product samples for your next staff meeting. As part of The Essential Experience I manage the white gloves and red carpet care in handling all aspects of your account.
• Extra Mile Delivery: We offer free, next day nationwide delivery with no hidden fees or surcharges. In St. Louis and Kansas City, Office Essentials trucks will deliver your orders and OE employed and uniformed drivers will place your product exactly where you want it.
• Totally See-Through Transparency: Knowing the ins-and-outs of your business and receiving on-going suggestions for process improvement and cost savings is critical to a successful partnership. This is why we conduct scheduled business reviews to analyze your spend, product usage, and to look for ways to help your company reduce time, costs and carbon.
• Local Community Involvement: Office Essentials is a company with heart. We are deeply rooted in the communities we serve. We created an outreach team of employees called the Impact Team and each year they identify ways to give back to the communities that we live and work in. Some of our past projects include
Holiday Toy drives, Back To School Supply Donation drives, participation in the Susan G. Komen Race For the Cure, and many more.
• Insert Your Word Here: We love what we do. Taking care of customers is in our DNA. Whatever it takes, whatever you need – we are ready to provide you with The Essential Experience.
More Information
If you're ready to experience customer service like it should be, please contact us today for more information.