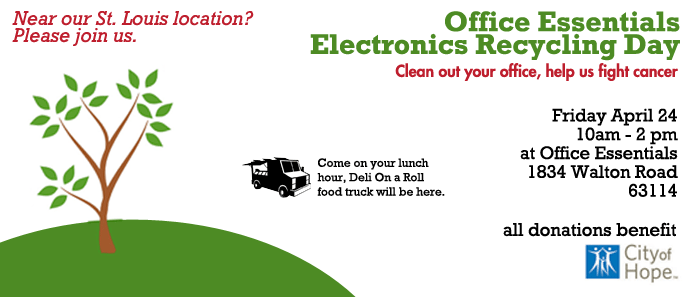 Do you have old electronics sitting around the office that you don't know how to get rid of? Since next week is Earth Day, and sustainability and green office supplies are part of our DNA, our Impact Team (our "team within the team" dedicated to community and charitable projects) thought it would be a great time to hold an Electronics Recycling Day.
Here are the details…on Friday, April 24, from 10am–2pm our Impact Team will be set up on the parking lot of our St. Louis location, accepting your old electronics for recycling. This would include things like old monitors, printers, cell phones, coffee machines, cpus, telephones…most things with a plug.
The recycling is free, but we are asking for donations for the City of Hope, an organization that does cancer research and treatment.
Our friends from EPC will be here to help us dispose of everything properly. This includes securely erasing anything you bring with a hard drive in it.
The Deli On a Roll food truck will be here as well, providing their delicious food, and they have graciously offered up a portion of their proceeds to the City of Hope as well.
If you would like to come by and drop off your old electronics, please fill out this form so we know what to expect. We'll get back to you with any questions and a suggested donation.
[contact-form subject='Items for Office Essentials%26#039; Electronics Recycling Day'][contact-field label='Name' type='name' required='1'/][contact-field label='Email' type='email' required='1'/][contact-field label='Company' type='text'/][contact-field label='Phone Number' type='text'/][contact-field label='Sales Rep (if you know)' type='text'/]Items To Donate: [contact-field label='Printers/MFPs' type='checkbox'/][contact-field label='Monitors' type='checkbox'/][contact-field label='Desktops/Laptops/CPUs' type='checkbox'/][contact-field label='Cell Phones' type='checkbox'/][contact-field label='Coffee Machines' type='checkbox'/][contact-field label='Microwaves' type='checkbox'/][contact-field label='clocks/radios' type='checkbox'/][contact-field label='Office Telephones' type='checkbox'/][contact-field label='Other (see below)' type='checkbox'/]
[contact-field label='If your item(s) were not listed%26#x002c; add them here' type='textarea'/][contact-field label='Approximate total weight or number of items' type='textarea'/][contact-field label='Comments/Questions' type='textarea'/] [/contact-form]