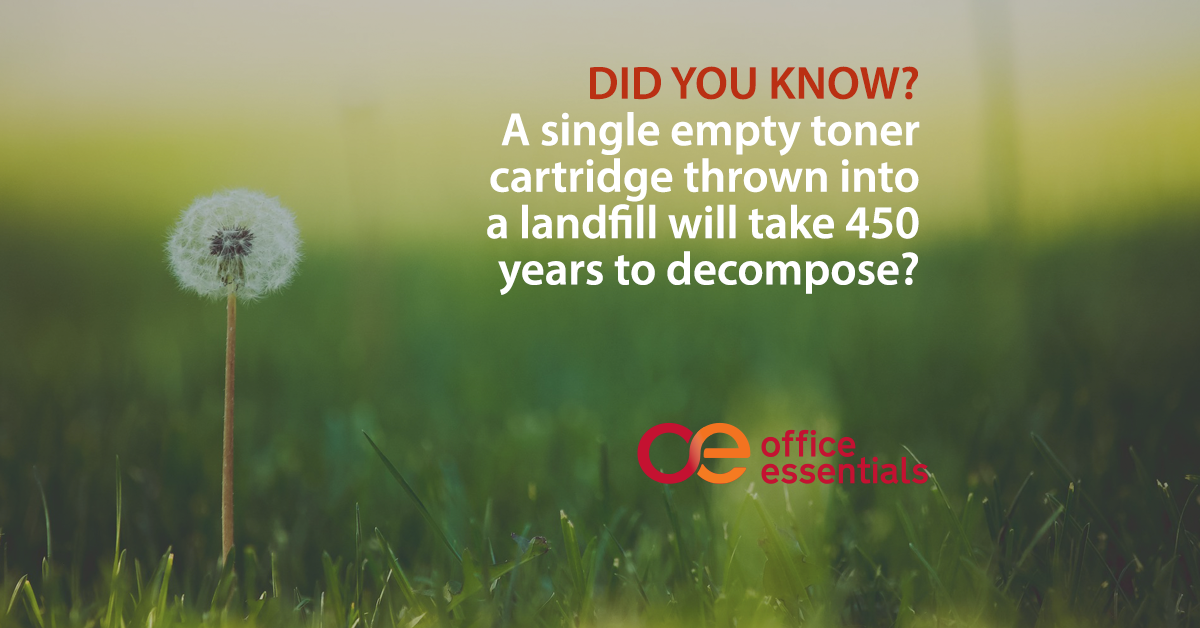 A single empty toner cartridge thrown into a landfill will take 450 years to decompose; this Earth Day, don't forget to recycle your empty cartridges.
In celebration of Earth Day, celebrated on April 22, Office Essentials would like to remind our customers and other businesses that recycling empty toner cartridges is not only easy but free.
We'd like to spread the word about the ease of our toner recycling program so that as many empty printer cartridges can be kept out of landfills as possible.
Consider this — every year over 400 million cartridges with a combined weight of 200 million pounds are buried in our nation's landfills.
Here are some more statistics:
Worldwide, approximately 1.2 trillion inkjet cartridges are used each year and less than 30 percent are currently being recycled.
It takes almost a gallon of oil to make a new toner cartridge.
Thirteen ink cartridges are thrown away every second in the US
If the printer cartridges discarded worldwide in one year's time were lined up end-to-end, they would circle the earth over three times.
Every recycled toner cartridge saves nearly 2.5 pounds of metal & plastic from being deposited in landfills.
Whether or not you buy your printer cartridges from Office Essentials, we have a toner recycling solution for you that is simple, quick and free:
Once you accumulate a few empty toner cartridges that you would like to recycle, let us know and we'll send you a pre-paid shipping box for you to put your empties in. Once it's full, all you have to do is tape the box closed and hand it to your UPS driver. The box has a pre-paid shipping label and the empty cartridges will be sent to a recycling facility to be properly disposed of.
Email us to learn more
If you would like more information or to take part in the program, just let us know — send an email to [email protected].