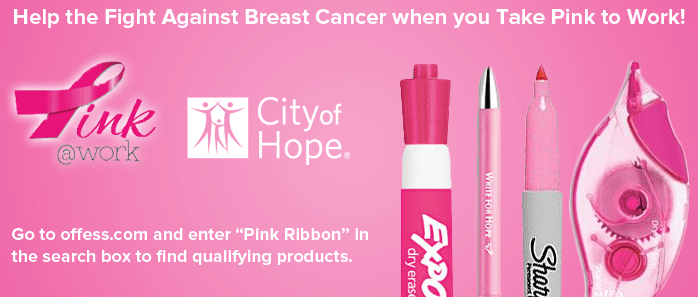 Breast cancer affects millions of Americans every day. City of Hope, one of the nation's leading cancer research centers, is dedicated to helping all of those affected, through research, treatment and education. Office Essentials is proud to support City of Hope.
You can join the fight against breast cancer when you Take Pink to Work. With every purchase of [email protected] office supplies from Sharpie, EXPO, uni-ball and Paper Mate, you'll help contribute to City of Hope's research efforts and raise awareness of the cause.
Choose from a Sharpie® Permanent Marker with pink ink, a Paper Mate® Write for Hope® Retractable Ball Point Pen, a pink faux leather Rolodex Business Card Book and other [email protected] Products and accessories designed in attractive pink hues.
Place your order today and help support City of Hope and breast cancer research.
To see qualifying products, simply go to our online store offess.com and enter "Pink ribbon" without the quotes into the search box, or get the part numbers from the flyer below. (You can click on the image to enlarge it.