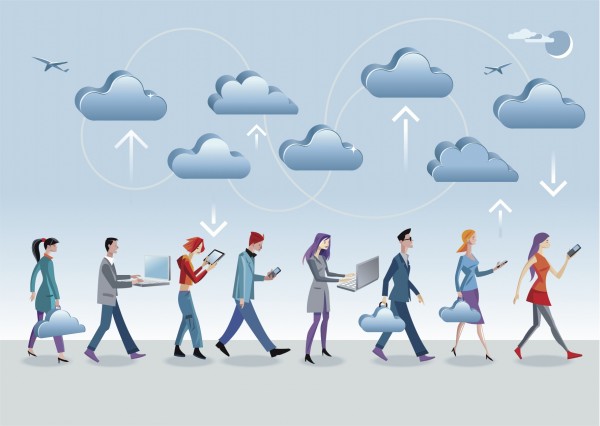 There are many benefits to a small business from storing their data in the cloud. Whether for productivity or security or both, the cloud can make a business more efficient and stable. That said, there are a ton of cloud storage providers out there, and they are not created equal.
"Online data storage is a broad term that can mean lots of different things to lots of different people, so it's really important for businesses to properly understand what's right for their needs and what's being offered by different providers," Gytis Barzdukas, a senior director of product management for data storage provider Mozy by EMC, told Business News Daily.
There are eight key elements to look for when you are assessing a cloud storage provider:
Financial stability
Proven infrastructure
Established customer base
Geographically distributed data centers
Security
Robust encryption
Third-party validation and accreditation
Longevity and experience
Each of these elements should be considered a requirement of your cloud provider. Here at Office Essentials, Mozy is the right fit for our needs because we feel like they satisfy the eight elements better than any other company we have come across — so much so that we recommend and offer the service to our customers.
Here is a quick rundown of why Mozy cloud backup protection is complete:
Financial stability: Mozy is profitable and is backed by EMC, the leader in storage. They're not going anywhere, except to the future. Enough said.
Proven infrastructure: Mozy easily scales complete data protection from a single person to tens of thousands of devices in the enterprise with easy deployment options from Mozy's feature-rich Admin Console, which lets admins perform their duties in ways that work best for them.
Established customer base: Mozy protects a large customer base: 6 million individuals, 100,000 businesses and they store more than 90 petabytes of information.
Geographically distributed data centers: Mozy servers are located in world-class data centers across the globe. And because there are regional jurisdictional requirements for data location, their data centers are situated where they need to be.
Security: Mozy doesn't take chances with the data that's entrusted to them. The security of your data is their highest priority. Mozy security policies protect your information from unauthorized access, disclosure, alteration, and destruction. Mozy's data centers have never been breached.
Robust encryption: All data handled by Mozy is encrypted with military-grade encryption prior to transfer, during transit via an SSL connection, and it remains encrypted while at rest in their data centers. Users can choose a managed encryption key, or personal or corporate encryption keys for added security.
Third-party validation: Mozy is SOC 1 SSAE 16 Type 2 audited and ISO 27001 certified. These independent verifications certify that Mozy's processes and procedures meet or exceed the strictest control objectives in the industry.
Longevity and experience: Mozy is an established cloud provider; they've been around since 2005. During that time they have gone through successful certification and auditing processes and have gained loads of experience in deploying and managing cloud infrastructure and providing award-winning customer support.
So there you have it, eight reasons why Mozy is the most trusted name in cloud data protection and why Mozy cloud backup means complete data protection. If you would like to learn more, or try Mozy free for 30 days, please visit our Mozy page or send us an email.
Guess who satisfies the eight key elements to look for when you are assessing a cloud storage provider?
Please see our Cloud Backup Solutions page for more information or send us an email.