Did you know? There are more trees in North America than there were 100 years ago?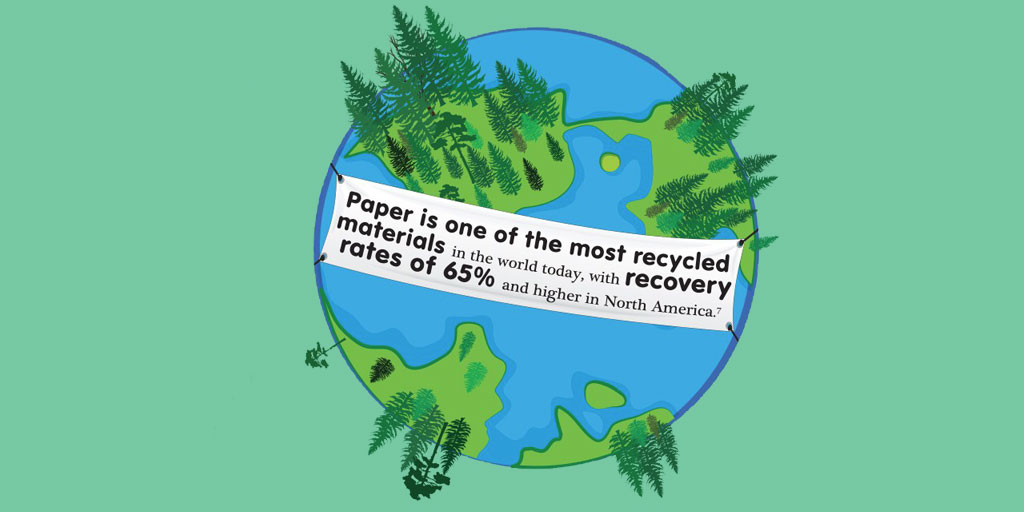 Working for a company that sells a lot of paper, I have always been generally aware that paper is actually a lot more sustainable than most people realize. But when I stumbled across an infographic from Twosides.org, I was surprised to see that paper production is even more sustainable than I already thought. So since today being Earth Day, it seemed like a natural time to debunk some myths about how paper is made.
Designed to bust myths about paper production, and about other forest products, the infographic reveals that in North America less than 36% of the annual timber harvest is directly used for paper and paperboard. In fact, most trees are harvested to make lumber and other solid wood products essential for construction, such as building homes and furniture.
The infographic spotlights other key facts about paper, recycling, and other forest products, including:
Every year, North America grows many more trees than are harvested.
Paper is one of the most recycled products in the world with recovery rates of 65% and higher in North America.
About 35% of our paper products use recovered fiber as a raw material. Other key raw materials are sawmill residuals leftover from lumber manufacturing.
Forest products, such as paper, are based on a highly renewable and natural raw material – wood from sustainably managed North American forests.
If you are interested in sourcing from a company that cares deeply about it's environmental impact, and one well versed in busting the myths about how paper is made, please email us. In the meantime, here's the whole infographic. Click on the image to zoom in: