…and how to design a workspace your employees will love.
The head of our furniture department, Chris Fortune, was recently on a business trip. Ironically it was for training from Hon. In the airport on the way back to St. Louis, he came across the Harvard Business Review on a newsstand with the headline "Why we hate our offices." As someone that designs offices for a living, this headline caught his attention. So much so that upon his return he designed a presentation around it for our sales team designed to talk about the latest thinking about open offices.
Here's the problem: open offices are supposed to promote collaboration, but people just don't like them much. Companies have been trying for decades to find the balance between public and private workspace that best supports collaboration and open offices were supposed to be it.
Looking at privacy the wrong way
When it comes to open offices, privacy has traditionally been defined in physical terms, but this isn't the best way to look at it. Privacy is really about the individual's ability to control INFORMATION (what others need to know, both personal and professional) and STIMULATION (any sort of disruption).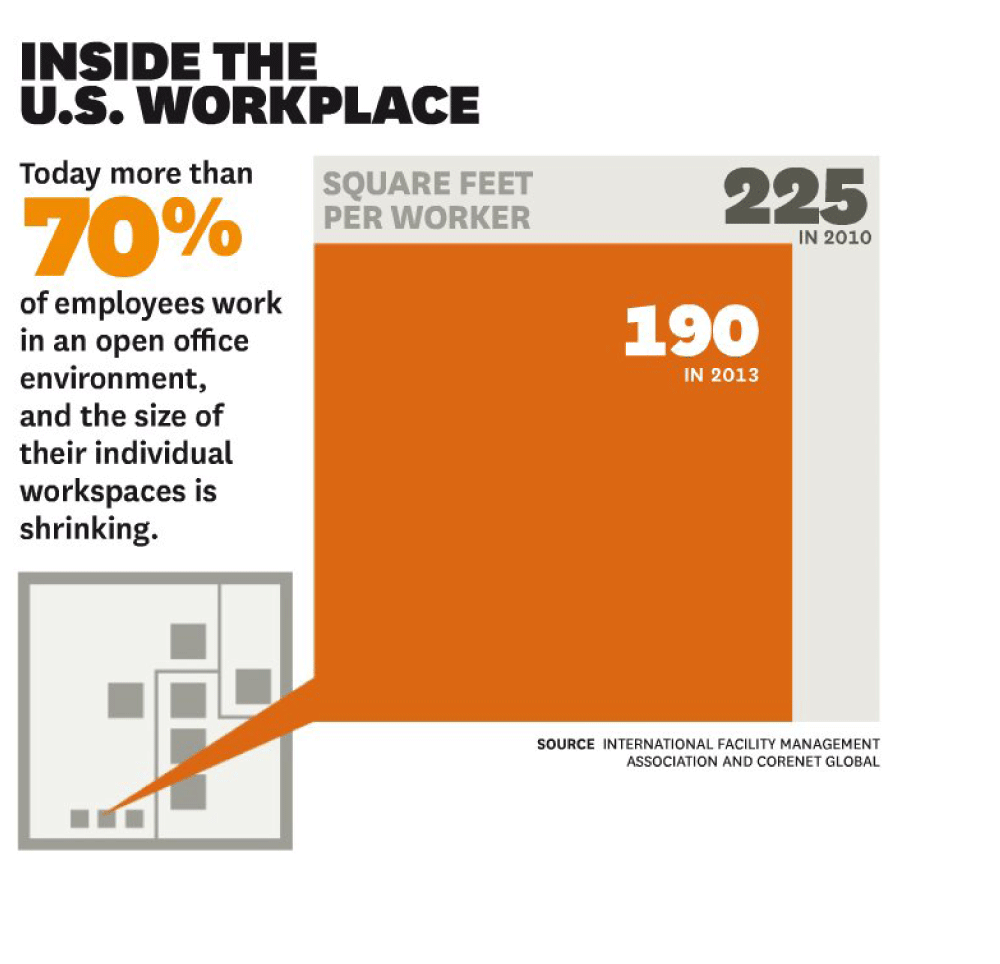 How to fix it
Privacy doesn't actually prevent collaboration — quite the opposite. In fact, by improving privacy – by giving employees spaces they can be alone and remove distractions and disruptions — companies can actually improve collaboration when it does occur.
Open offices are not inherently good or bad. The key to successful workspaces is to empower individuals by giving them choices that allow control over their work environment. When they can choose where and how they work, they have more capacity to draw energy and ideas from others and be re-energized by moments of solitude.
Providing the ability to move easily between group time and individual private time creates a rhythm – coming together to think about a problem and then going away to let ideas gestate – that is essential to the modern organization.
The "Allen Curve" Holds, Even today
In 1977, the Allen Curve measured the strong negative correlation between physical distance and frequency of communication. It estimates that we are four times more likely to communicate regularly with someone sitting 6 feet way from us as someone 60 feet away.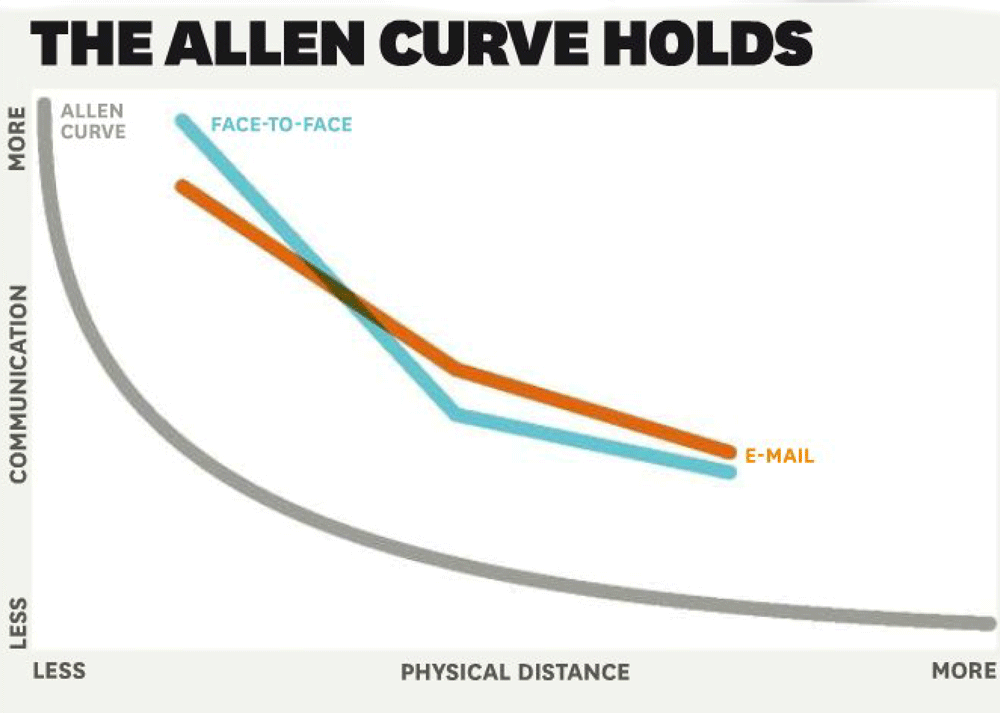 It would seem that distance-shrinking technologies break the Allen Curve, and that communication no longer correlates to distance, but that's wrong. In fact, as distance shrinking technology accelerates, proximity is apparently becoming more important.
One Theory: Develop spaces that encourage "Collisions"
Collisions are defined by chance meetings among associates that might not otherwise occur. Research shows that these collisions actually stimulate ideas and creativity that can bolster a company's productivity. Strategically locating coffee areas, eating and lounging areas. Also, break and leisure times can be timed to encourage these meetings.
Learn More
Our furniture designers work very hard to keep up with the latest thinking in the office furniture industry. If you would like to talk more about an open office plan, or about anything to do with business furniture, feel free to contact Office Essentials and take advantage of their expertise today.