Office Essentials is a national business supply and services company, headquartered in St. Louis, Missouri. We're rich in experience with a fresh approach to winning your business. We help you rethink the procurement process and find a smart, imaginative way to weave together your business' wants and needs.
We work with you to develop a unique plan to cut time, costs and carbon.
From the products you choose to the way they are ordered, delivered and processed. We're here to help you solve your challenges while challenging the way you think about the Essentials.
There are standard ways we work with companies like yours to help you cut time, costs and carbon, but there are a lot of unique and individual ways that apply only to your organization.
Rethinking Time, Costs and Carbon: SmartChoice makes Office Essentials unique
Today's offices are constantly faced with the challenge of needing to do more with less. Businesses are expected to increase productivity without increasing time, budget or impact on the environment. Rather than choosing to "cut back" or "go without," Office Essentials helps you rethink the challenges and operations of your business and make the SmartChoice to cut time, costs, and carbon.
The SmartChoice program partners with your company to craft a custom approach to the true essentials of business: saving time, cutting costs and reducing your carbon footprint.
Exceeding Your Expectations: The Essential ExperienceTM redefines customer care
Developing a dynamic, relevant and cost-effective pricing program for your company is critical.
However our service, what customers call The Essential ExperienceTM, is what truly separates OE from the crowd. It's where we shine, and why the customer hearts we win, rarely ever wander.
What we offer
What Benefits Will You Get From Office Essentials?
Free next-day delivery
We have our own fleet of 28 delivery trucks covering the St. Louis and Kansas City regions every day. Our drivers are all uniformed employees who will deliver your order wherever you want it. Our customer service team answers every call and is empowered to make the necessary decisions to take care of your needs the first time you call.
St. Louis Office Furniture Showroom
In our St. Louis office, we have one of the region's largest HON furniture showrooms. Our furniture interiors and design team is always happy to offer a tour of the latest office furniture and seating options. Let us know if you would like to come by and take a look around.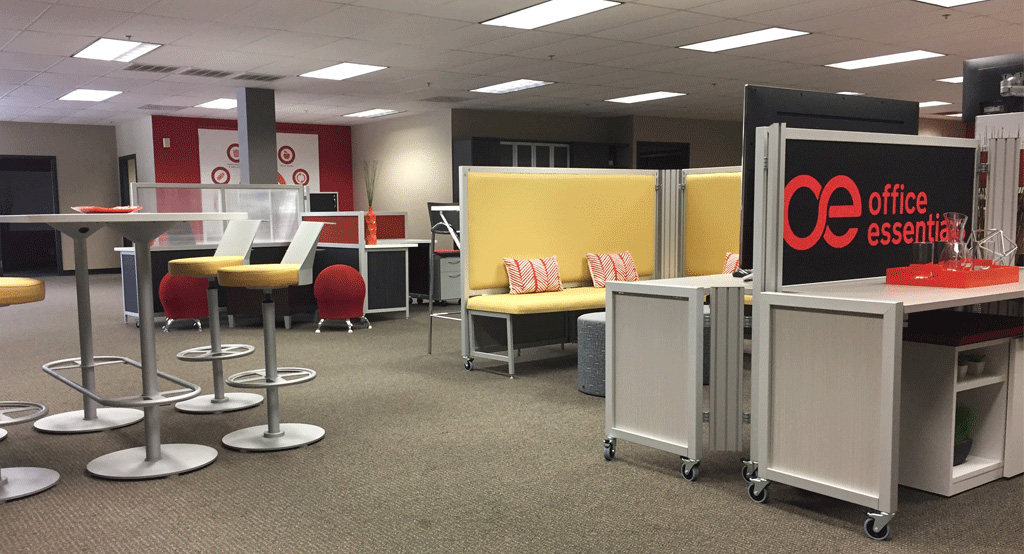 We live, work and play in St. Louis and Kansas City, just like you.
At Office Essentials, we rethink the challenges you face when trying to run your business. Not only do we supply all the office supplies, office furniture, cleaning and breakroom and technology products you need to run and grow your business, we also work with you to find creative ways to help you save time, costs and carbon. We call this our SmartChoice program. It is how we do business and what makes us unique from all the other dealers selling office supplies and business furniture in St. Louis and Kansas City. (You can learn more about SmartChoice here.)
Find our St. Louis Location
St. Louis Office
Office Essentials
1834 Walton Road
St. Louis, MO 63114
phone: 314-432-4666
fax: 314-432-4691
Find our Kansas City Location
Kansas City Office
Office Essentials
1548 Erie Street
North Kansas City, MO 64116
phone: 816-285-0955
fax: 816-285-0959
Contact Office Essentials