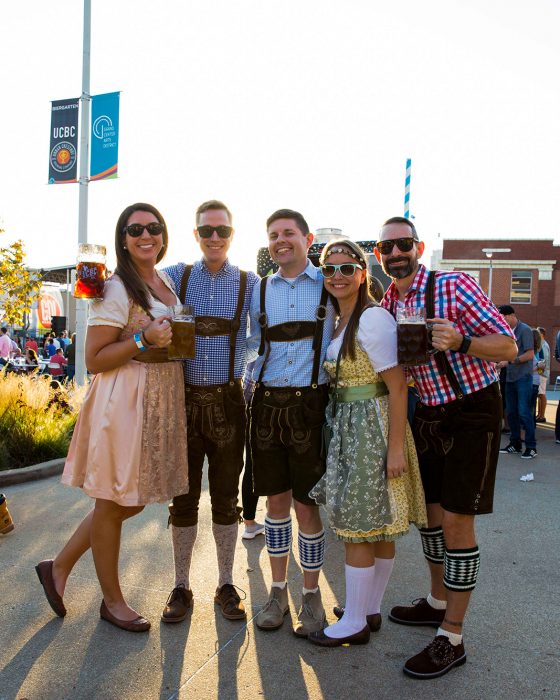 The germanic heritage of St. Louis runs deep, unsurprisingly our region loves to celebrate Oktoberfest.
The history of Oktoberfest predates the formation of modern Germany, but might not be as old as you expect. Dating back to the early 19th century when the Crown Prince of Bavaria was getting married and wanted to celebrate with the whole of Munich. Tents were set up in the fields outside of the city walls and the celebration quickly became a tradition that has spread across the globe.
So grab your lederhosen and put on your haferlschuh and make your way to one of these celebrations.
Saint Charles Oktoberfest
When: September 27-29th
Where: Lewis and Clark Boathouse Parking Lot off 1050 S. Riverside Drive, between the Missouri River and the Historic Downtown District.
Enjoy traditional music, dancing, and beer at this popular family-friendly Oktoberfest near St. Louis. Parking can be a bit of a challenge, but this is one of the best Oktoberfests in the region.
Cost: Free to attend, but having cash is encouraged.
Urban Chestnut Oktoberfest
When: September 27th-29th
Where: Midtown Brewery and Biergarten. 3229 Washington Avenue.
With its Bavarian roots and its critically acclaimed Bavarian-style beers, it is no surprise that Urban Chestnut hosts one of the region's best Oktoberfests. Grab a pretzel plate and share with some friends while listening to live music and enjoy the sights of the beautiful midtown neighborhood of Saint Louis city.
Cost: Free to attend
Soulard Oktoberfest
When: October 11th & 12th
Where: Soulard Farmers' Market, 730 Carroll St, St. Louis, MO 63104
Soulard is well known for its Mardi Gras' celebrations, but it also has a wonderful Oktoberfest that is sponsored by Anheuser-Busch. The event promises to have the premier German bands of the area playing music, but also will have a wide variety of entertainment options. If you are a fan of south city or find yourself needing something to do, make your way down to Soulard for this.
Cost: Steins are $10, but plenty of the entertainment is free.
Hermann Oktoberfest
When: Every weekend from October 5th to October 28th.
Where: Hermann, Missouri
Hermann, which takes its name from the Germanic hero who defeated the Roman general Varus, doesn't limit their Oktoberfest to any weekend but instead celebrates each weekend in October. Only a short train/bike/car ride away from St. Louis, Hermann is an excellent weekend trip for anyone in the region who wants to get away from the bustle of the metro area.
Cost: Varies from location to location.
Hofbräuhaus St. Louis Oktoberfest
When: Weekends September 22th through October 7th
Where: 123 St. Eugene Drive Belleville, IL 62223
A newcomer to the areas' Oktoberfests, Hofbräuhaus' Belleville location is celebrating their inaugural Oktoberfest this year. Boasting a wide variety of entertainment and a 7,200 square foot tent, this celebration aims to tap into Hofbräuhaus' Bavarian roots. Plenty of parking available and be sure to check out the inside of this delightful location.
Cost: Free to attend
This list is far from comprehensive, there are many many smaller Oktoberfests around the St. Louis metro area, which ones are your favorites?