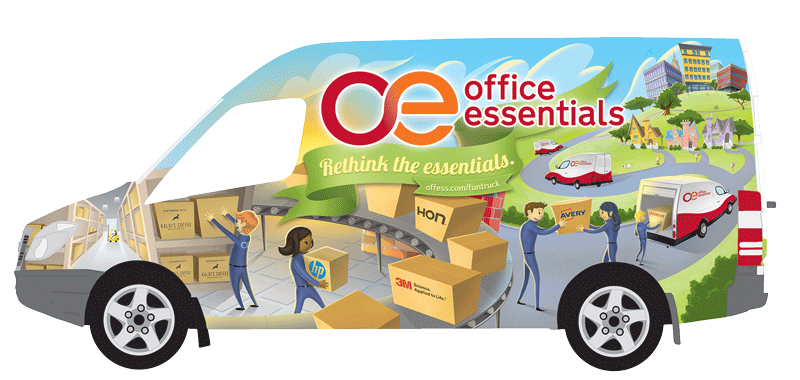 The Fun Truck Brings Happy To Work
The Fun Truck will help us build Office Essentials brand awareness, goodwill and community through fun, engaging, and sometime spontaneous events, in the primary markets we serve. The Fun Truck will hit the streets, spreading our love of office supplies as well as our belief that work should be fun with activities that:
Help our audience make their mark on work with productivity-enhancing or workplace elevating solutions.
Strengthen relationships with our customers by celebrating happiness at work.
Reinforce our commitment to our community.
Fun Truck Activities:
We'll be doing all sorts of exciting things with the Fun Truck. As we plan these events, they'll fall into one of three categories
Making Your Mark On Work: These events are about elevating work, whether through better productivity or workplace-elevating solutions. For example, we'll be bringing the truck to locations around town for our "Joe To Go" Coffee Giveaways, showing people that coffee at work doesn't have to be gross.
Work Happy: These events are all about creating new relationships and strengthening old ones by having fun at work. (Or right after it.) One idea is an adult coloring club. This event, possibly held at a micro-brewery, is the epitome of hipster. Young professionals will come for beer and color an OE-provided piece of local art.
Around Town: These events are about being a productive member of our community, whether that's delivering donated items for local flood victims, or taking part in local cultural events like Cardinals Opening Day, you'll see the truck out in the community often.
The next time you're driving along I-170 or taking a stroll Downtown St. Louis near Kiener Plaza, keep your eyes peeled for the Fun Truck.
Want the Fun Truck to Bring Happy to Your Work?