Universal Business Supply and Office Essentials, St. Louis' two leading office supplies companies are joining forces to provide customers innovative solutions designed to meet the needs of the modern business and its workers.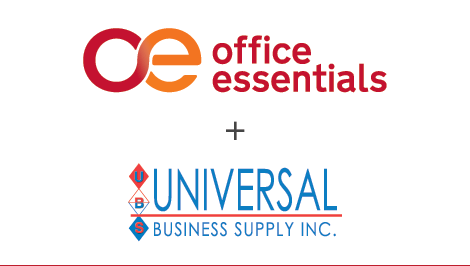 We have some exciting news to share with you: As of yesterday, February 2, 2015, Universal Business Products (aka UBS) is now part of Office Essentials. The acquisition will position Office Essentials as the largest office supplies dealer not only in St. Louis but across the Midwest.
By joining forces, customers of Universal Business Supply will now be able to take advantage of Office Essentials' unique approach to business supplies that will allow them to continue to have an outstanding source for traditional office supplies while exposing them to new products and services that address the needs of the modern business and worker.
"In July 2001, we started UBS because we believed we could serve the companies of St. Louis better than any competitor. UBS achieved success over the past 13–1/2 years by making that belief a reality," said Jerry Holschen, Universal's president, "We are committed to continuing the original goals of UBS by joining forces with OE, who has the size, talent and resources to effectively compete in an ever-changing business landscape."
With the acquisition of Universal, Office Essentials will now have 130 employees in offices in St. Louis and Kansas City. The company will have 26 delivery trucks making deliveries in both metro areas everyday.
"Universal Business Supply is an excellent fit for Office Essentials as we continue to grow and strengthen our position in the St. Louis metro marketplace. Both organizations have similar business models and values, so together our loyal customers will benefit from the added resources & purchasing strength, and our great employees will have further opportunities to enhance their individual careers."
For now, Universal is now operating as OE from their current Earth City facility. The UBS employees will be moving into the Office Essentials St. Louis office sometime in April 2015.
If you have any questions about any of this, please Contact Us
---