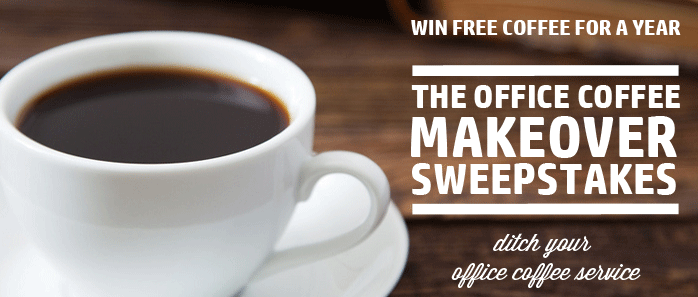 Sign up for the Office Coffee Makeover Sweepstakes
EXTENDED: Due to demand for appointments, we have extended the coffee sweepstakes until November 21. In other words, you still have time to enter.
When you make an appointment to talk to us about office coffee between now and October 7, 2014, you'll be automatically entered to win a complete office coffee makeover.
On Friday October 10 Friday November 21, we'll draw the name of one of the companies we spoke with. If you win, you'll receive a customized coffee package that includes a new Bunn coffee brewer and airpots, and free coffee for a year, all tailored and sized to your office's needs.
If you are currently using an office coffee service, you'll be able to cancel it and enjoy the savings, but even if you don't win the grand prize, it will be time well spent because we save companies money in their breakrooms everyday.
To sign up for an appointment please fill out the form below.
[contact-form to='
[email protected]
' subject='I would like to enter the Office Coffee Makeover Sweepstakes'][contact-field label='Name' type='name' required='1'/][contact-field label='Company Name' type='text' required='1'/][contact-field label='Email' type='email' required='1'/][contact-field label='Phone' type='url'/][contact-field label='Comment' type='textarea' required='1'/][/contact-form]