We make office coffee service easy because you have more important things to worry about.
Coffee at work is an important thing. It's what gets you going in the morning, it's what keeps you humming throughout the day, and it would certainly not be something your business would want to go without. But typical office coffee service is usually way more of a pain than it should be. That's why Office Essentials took everything our customers disliked about their office coffee service agreements and delivery and got rid of it. Instead, we offer you great office coffee service with savings that will make you do a spit-take.
Our Office Coffee Machines and Service Program:
No regular monthly minimums, you order when you need it
Free delivery and no minimum orders
Combined Delivery - Order coffee and supplies when you order your office supplies
Coffee machines, brewers, and air pots
Kaldi's, Starbuck's, Seattle's Best, Peet's, or Folgers -- more selection and better prices, plus a coffee for every taste
Creamer, sweetener, utensils, cups -- a full selection of supplies and accessories
Tea, cocoa, soda, and a wide selection of other beverages for non-coffee drinkers
Online Ordering - Favorite lists for common items makes reordering easy and quick.
If you're in St. Louis, Kansas City, Columbia, Springfield MO, Springfield, IL, or anywhere in between, we're ready to help with your office coffee.
Office Essentials has developed a no-hassle coffee machine program that is as easy as 1-2-3!
Pick the appropriate brewer size for your office
Select your favorite coffee and other beverages
Pick the accessories you need to keep the coffee flowing.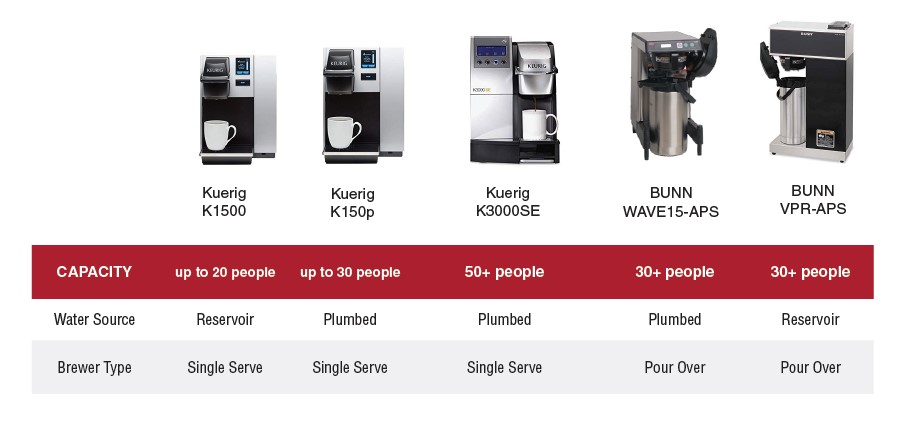 At Office Essentials, our Office Coffee Service includes everything you need to make the SmartChoice:
Free Coffee Machines and Brewers
Free Installation
Routine Maintenance
Service
Free brewer/installation requires a signed agreement.

Ready to elevate your office coffee? Get more information about our office coffee machine program.