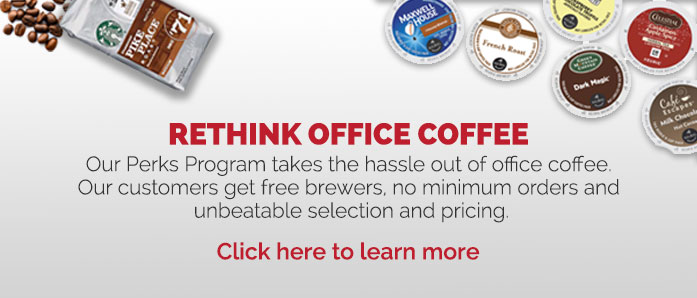 No minimums, no hidden fees, responsiveness set us apart. Check out our office coffee program below!
Coffee. It's the drink most closely associated with productivity. Study after study has demonstrated a positive effect on our alertness and it has even been shown to give people a more positive attitude. It's no wonder then that workplaces take the coffee they provide to their workers so seriously; and equally surprising that office coffee providers so routinely let those companies down.
As we talk to our customers about their office coffee service, we hear a lot of angst towards the traditional office coffee providers out there. Complaints like they are hard to get a hold of, or that they have high minimum orders, or worse — hidden fees.
As a business supplies and services company, at which one of those services happens to be coffee, we offer our customers a lot of perks, pardon the pun, that our competition just can not match.
Our Office Coffee Service includes:
No regular monthly minimums, you order when you need it
Free delivery and no minimum orders
Combined Delivery – Order coffee and supplies when you order your office supplies
Coffee brewers and airpots
Kaldi's, Starbuck's, Seattle's Best, Peet's, or Folgers — more selection and better prices, plus a coffee for every taste
Creamer, sweetener, utensils, cups — a full selection of supplies and accessories
Tea, cocoa, soda and a wide selection of other beverages for non-coffee drinkers
Online Ordering – Favorites lists for common items makes reordering easy and quick.
If you're in St. Louis, Kansas City, Columbia, Springfield MO, Springfield, IL or anywhere in between, we're ready to help. Fill the form below out for more information about our program.
Get more information about our office coffee program
Please check out our office coffee page, or fill out this form and we will contact you with more information about our program.