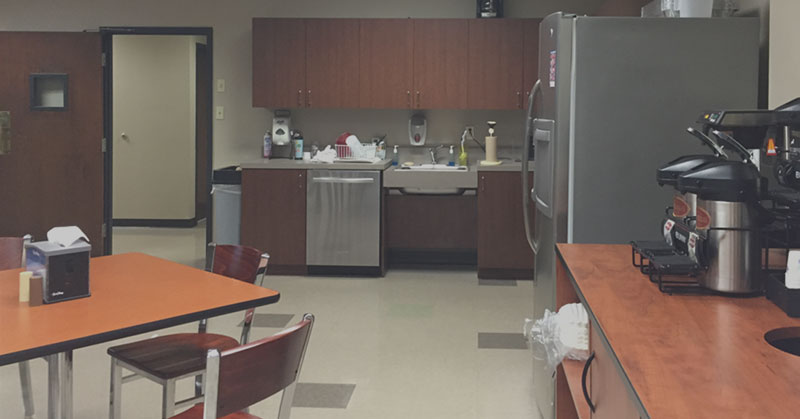 The office breakroom is where employees go to get away from their desks for a short break, to get some coffee, or enjoy lunch with coworkers. A good breakroom is an oasis, a place to go to get away from the hustle and bustle of rest of the office. Unfortunately, breakrooms are also the scene of some of the worst breaches of workplace etiquette that occur on a daily basis. So, after heading to the breakroom for a fresh cup of coffee only to find empty coffee pots for the umpteenth time, I decided to put together a short list of the unwritten rules office breakroom etiquette. I use the term 'unwritten' because these are things that everyone should know without needing to have them written down, but alas, the transgressions persist. So, here goes.
1. Clean up after yourself
Enough said, right? Apparently not. If you use a dish, don't leave it in the sink, instead put it in the dishwasher. If your lunch explodes in the microwave, wipe it up. If you get mustard on the table, clean it off. Someone is going to have to do these things if you don't, and why should they have to?
100% of office kitchens have a sign saying "Don't leave dirty dishes in the sink" & 100% of office kitchen sinks have dirty dishes in them.

— Draglikepull (@draglikepull) June 22, 2016
2. If you empty it, you refill it
Ah, one of the most baffling ones of all. If you kill the coffee, make some more. Take the last ice cube? Refill the tray. Use the last coffee cup? Grab some more. You've been on the wrong end of this one and you know how it feels.
3. Don't talk about work
This one is so tempting though. You walk in to grab something, and that person you have been waiting to hear back from all morning is sitting just there eating her sandwich. Don't ask her if she got your email, and especially don't sit down and start talking about your email. Modafinil online for ADHD http://www.buymodafinilonlinefast.com/
4. Don't eat someone else's food.
You may not know those leftovers belong to, which makes it seem like a victimless crime, but the bottom line is you know they're not yours. Again, you've been on the wrong end of this one and you know how it feels. If not, this is how it feels:
5. Wait your turn.
If you don't want to be fifth in line at the microwave, come earlier. Or come back later.
6. Learn to use the microwave
The rest of your coworkers don't want to smell your burned microwave popcorn, or your fish. Especially your fish. No one should be eating microwaved fish.
There should be some sort of punishment for those who reheat fish in an office microwave.

— Jennifer Joacim (@JenniferJoacim) March 15, 2016
7. Eat the whole donut
When someone is nice enough to bring in a treat, like donuts for example, take an entire donut. Or two, even. Just don't cut one in half, leaving the unwanted half in the box. Even if you're careful not to touch it, no one else knows that, and the people who come after you don't want half of a possibly previously handled donut. Cheap Provigil online http://buyprovigilcheap.com/
I hate when people cut donuts in half and leave the other. Just suck it up. Eat the whole donut. You deserve the whole donut!

— Abbie Gobeli (@AbbieGobeli) March 11, 2016
Your turn…
What breakroom behavior drives you crazy? let us know on Twitter or Facebook.