Best way to spread Holiday cheer? By giving back to our Veterans in need.
Last month,  Office Essentials kicked-off our first OE "Adopt-A-Family" program to help local, homeless Veterans during the holiday season.  Our goal for this program was to purchase every item on the VA Family's Wish Lists. Due to the overwhelming support from OE staff, we are thrilled to say that our goal was easily surpassed!
Each item on both VA family's wish list were purchased, including two "dream gifts", as quoted by the son of one our Veteran's,  a Playstation 4 game consul. OE provided both families with a Christmas Dinner from Dierbergs worth $100, along with hundreds of dollars in grocery and house hold item gift cards.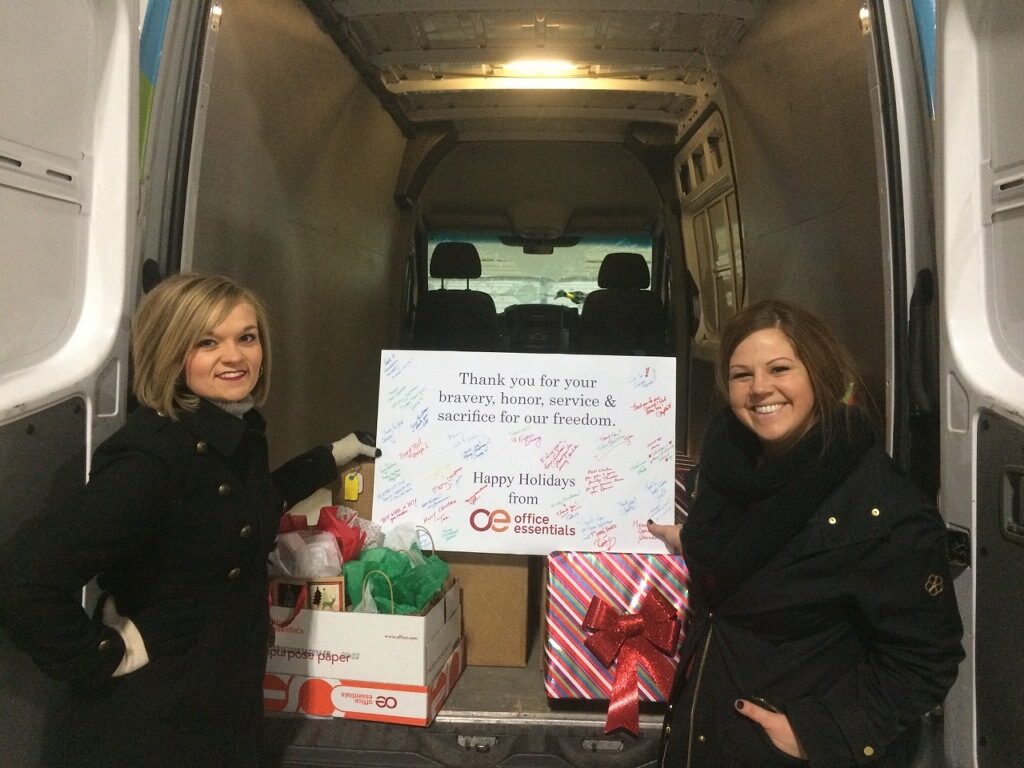 This morning, the OE Fun Truck,  along with employees Kristin Diering and Keelyn Schewgel, delivered the wrapped gifts to both families at the Hope Recovery Center in downtown St. Louis. Each family had a designated time to meet with their social worker and to open their gifts.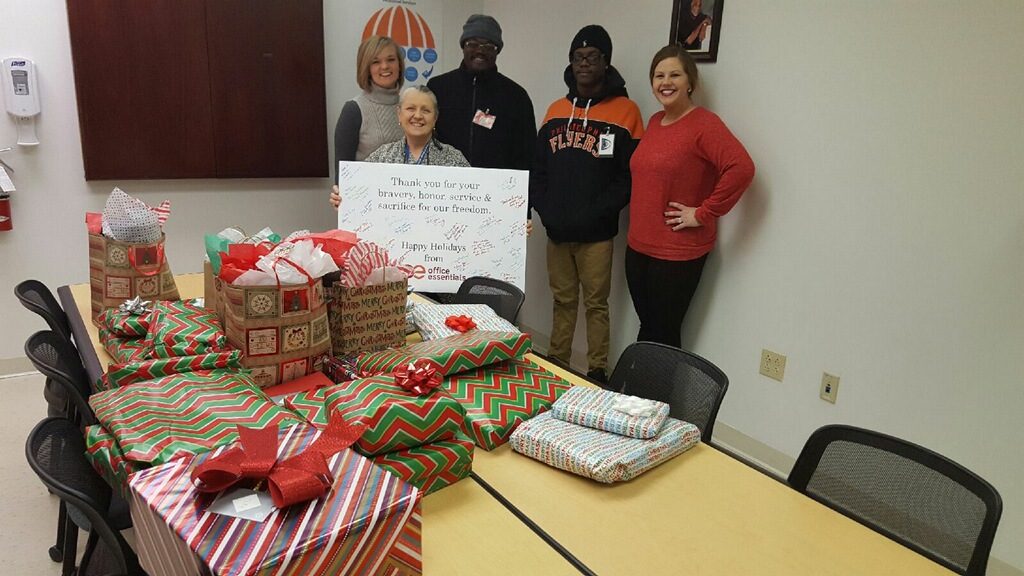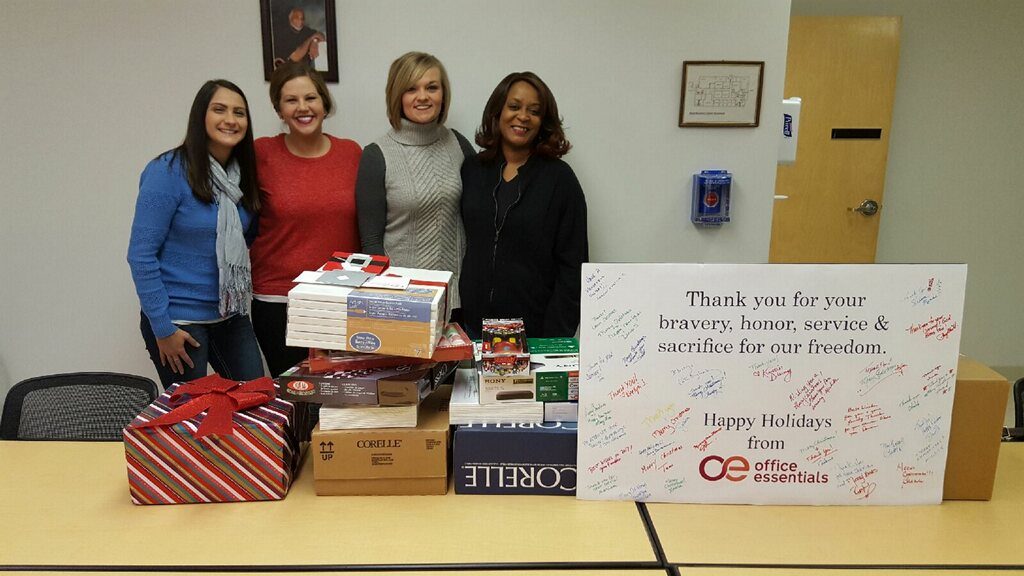 Being able to meet both families, and seeing their faces light up as they walked into the room filled with gifts, was one of the most rewarding feelings I have ever experienced. It was hard to hold back the tears! – Kristin Diering

I was extremely humbled and honored to be a part of the delivery of Christmas gifts to our two families this morning.  I am so grateful for the men and women who serve our country and protect our freedoms and being able to give back to two deserving families was the least I could do. – Keelyn Schwegel
As the families were finishing up their session, they each still had one gift left to open. Their "dream gift", a Playstation 4.
Seeing the look on the young man's face when he opened his PS4 and then turned to hug us was worth it all.  I am so proud of my OE family for coming together to purchase over $2,000 in gifts and gift cards for these families.  It will be a Christmas they will never forget.  – Keelyn Schwegel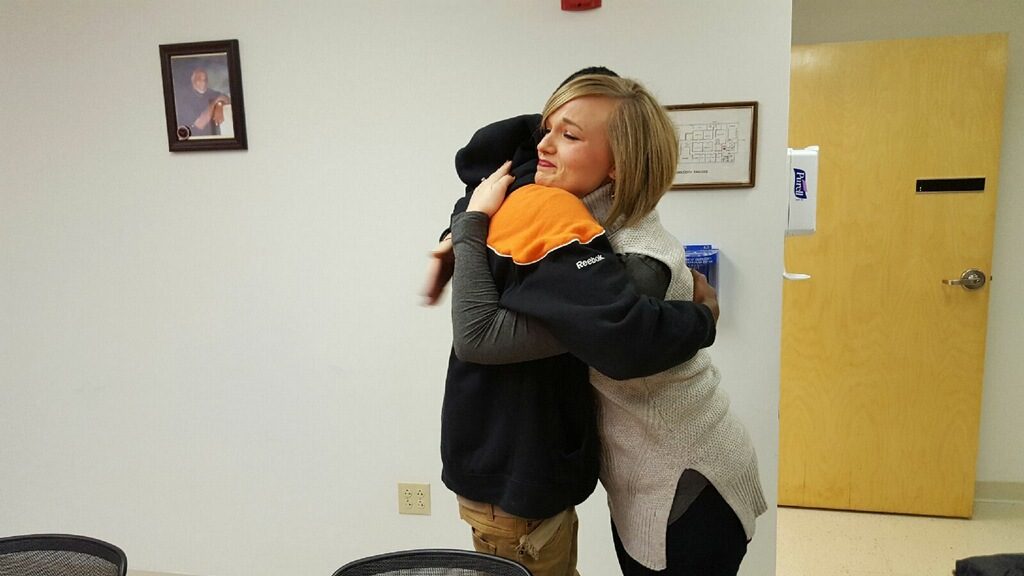 As our first OE "Adopt-A-Family" Program comes to an end, we couldn't be more proud of what we've accomplished for our local Veterans. Giving back to our community is a guiding principle here at Office Essentials. We enjoy lending a helping hand to those in need, especially when we know it'll help make a family's holiday season a little brighter. To all who participated in this year's program, THANK YOU!