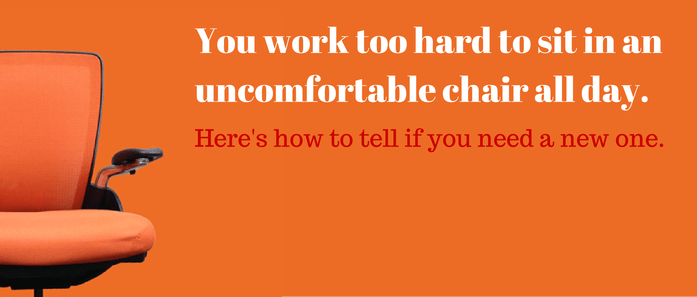 Do you need a new office chair?
Most of us spend a third of our day (or more) sitting at our desks. The right chair can make a huge difference in your productivity, comfort, and health, while the wrong chair can do the opposite. Are you ready for a new one? You probably are if…
Your shoulders and neck are stiff and sore.
You have to stretch to reach your mouse or keyboard.
Your lower back aches.
The seat cushion provides little or no padding.
Your office chair does not slide under your desk.
You have eyestrain.
Your chair is too narrow, long or short in the seat.
You're just plain uncomfortable.
Whether you sit at your desk chair for hours at a time or in spurts throughout the day, it's crucial to select a chair that supports your shoulders, arms, and back. Having an ergonomic chair that offers support prevents you from hunching over or over-stretching which can lead to chronic muscular problems. The right office chair will allow you to make several adjustments to the height, back, arms, and lumbar region. There is not a one size fits all chair, and there are many options from which to choose.
Here are a few tips on selecting a new office chair that works for you.
Consider how you work. Do you spend a lot of time on the phone? Do you need to quickly access files or other items in desk drawers? Do you use the keyboard and remain in the same position most of the day?
Try them out. Office Essentials carries a variety of office chairs that you can assess or try out, and a member of our furniture team can help you assess your options and show you how to make the proper adjustments to each chair. Every chair needs adjusting to your specific body type. Once you find a comfortable one, consider the following:
RELATED: How to Adjust Your Office Chair Correctly
How to adjust your new office chair
Height: You should be able to sit comfortably, feet flat on the floor with your knees at a 90-degree angle. Look for a seat with a pneumatic lever you can raise or lower while seated.

Arms: Armrests take the pressure off your shoulders and neck which is especially important if you sit at the computer for a significant part of the day. When typing, your forearms should be just above the armrest, with your elbows resting on it. Look for armrests that adjust for both height and position to accommodate different activities.

Back: We all have a natural curve in the lower part of our spine, and it's this area, the lumbar region, that can cause the most problems if not properly supported. That's why a good office chair should include lumbar support with adjustments for up and down, as well as forwards and backward to suit the natural angle of your spine. It should be high enough to support your shoulder and neck while allowing for movement so you can reach for items when you need them. Spend a lot of time on the phone? Then you may want to check out chair backs that recline to suit your posture.

Seat width and depth: Look for a chair that gives enough depth in the seat so you have two to four inches between the back of your knees and the edge of the seat. The width should be at least one inch wider than your hips and thighs.

Headrests and footrests: These features aren't for everyone, but maybe right for you. Headrests provide good support and prevent neck pain when talking on the phone in a more reclined position. If you want a footrest, select a free-standing one that allows you to rest your feet, keeping your knees at a 90-degree angle.
Talk to our expert office furniture team
The Office Essentials office furniture team is here to help you find the perfect new office chair. We keep a large variety of chairs from many different manufacturers on hand in our St. Louis furniture showroom. Schedule a time to stop by and speak with a member of our furniture team.