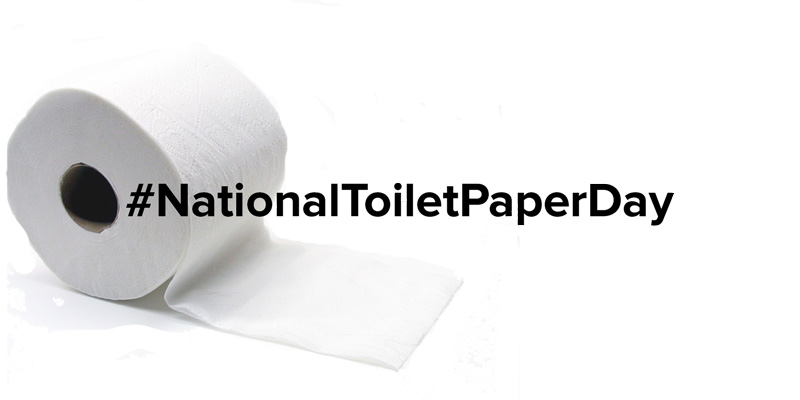 Did you know that the first time toilet paper was ever sold on a roll was on August 26, 1871? That is why today, August 26th, is now officially National Toilet Paper Day.
In honor of the occasion, our partner and toilet paper maker Georgia-Pacific pulled together a couple of fun facts about the tissue we don't like to ever be without. (Which explains why TP is one of our top selling items.)
Tissue Ingenuity
Have you ever wondered, "What did we use before toilet paper?" Before toilet paper was invented, people used household objects, including newspapers, leaves, corncobs – and even the Sears catalog!
From Trees to TP
Do you know how GP makes TP? Trees are harvested from sustainable forests. The bark is removed, and the trees are "chipped" into small pieces which are softened to separate pulp fibers from lignin. The lignin is used as a fuel, which helps to minimize waste, and the pulp fibers are washed and bleached to become paper stock. The stock is then dried, softened and cut into smaller rolls to make the soft, yet strong toilet paper you know as Quilted Northern.
Germ-free TP
Germaphobes everywhere, history is on your side. In the 1920s, tissue advertised as "20 Times Sterilized" was a big consumer selling point. At that time, the manufacturing process included sheets being passed over the heated surface of machine cylinders, sterilizing particles and creating germ-free sheets.
Help for the Hind Quarters
Who knew? In 1935, a common problem for bathroom tissue consumers everywhere was finally addressed: the splinter. (Ouch!) GP's own Quilted Northern (known as Northern Tissue at the time) was heralded as being the first "splinter-free" bathroom tissue.
On A Roll
Today, Georgia-Pacific's Quilted Northern paper mills produce enough tissue to wrap around the Earth's equator 1 1/2 times—every day!
We'll leave you with Georgia-Pacific's awesome National Toilet Paper Day commercial.
---