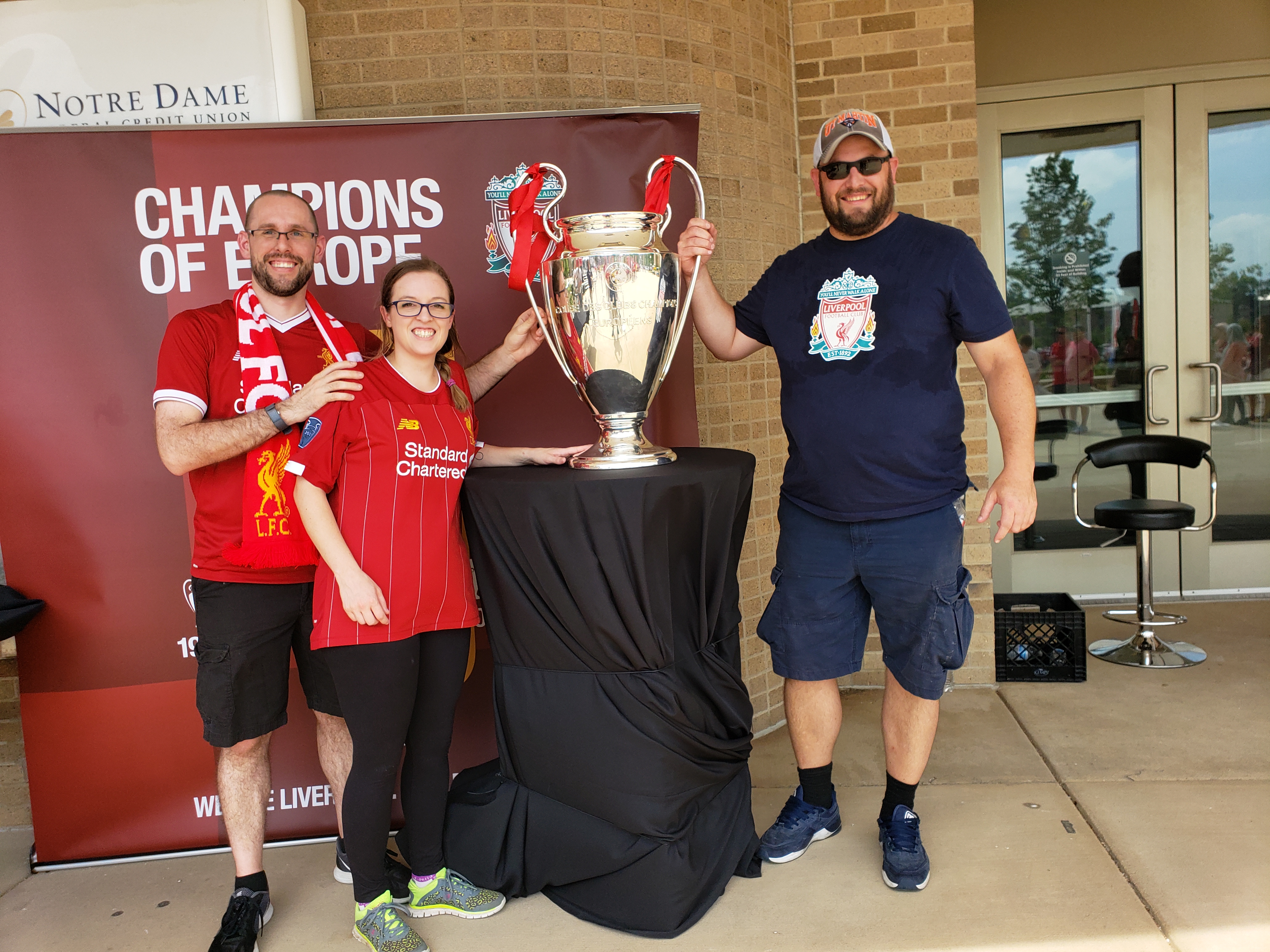 Why Liverpool?
Liverpool Football Club is something very special to me. I have loved the club for more than half of my life (I'm 33) and each year the bond gets stronger. Why Liverpool? What's so great about a team in a city tucked away in Northwest England? That's a wonderful question and one I'm always happy to answer.
To someone in America, the first thing that comes to mind when you hear Liverpool is probably The Beatles (they just so happen to be my all-time favorite band). The Fab Four (John, Paul, George & Ringo) all came from this blue-collar port city on Merseyside and put it on the map in 1964 at the height of Beatlemania. At the same time this was happening, Liverpool FC were building a revolutionary football team under the guidance of legendary manager, Bill Shankly. He proceeded to win two English First Division trophies in 1963-1964 and 1965-1966. That run of success has lasted over 50 years and seen the club rack up 18 league trophies (2nd most in English history) and 6 Champions League/European Championship trophies (most all time for an English side).
Liverpool FC didn't come into orbit of my life until the early 2000's. It's been a slow road for football (soccer) taking off in America and the odds you'd catch a match from Europe, South America or any other continent outside ours was unlikely 15-20 years ago. The country would collectively gear up for the World Cup every four years and then just like that, poof! It was gone, not to return again for a few years. Thanks to the growing popularity of ESPN, they began showing Champions League matches in the spring on a secondary network to gauge if there was actually an audience for it stateside.
April 3rd, 2002. A day I'll never forget.
I get home from school (yep, I was still in high school), turn on the TV and there it was. I'm a sports fanatic at heart so my television was already set to ESPN. LIV v. BAY the screen said. What the heck did that mean?! Who were these teams? In actuality, I had some familiarity with them from my time playing video games (FIFA World Cup 98, anyone?), but had never had the chance to watch two clubs from Europe battling for the biggest prize in all of club football: The Champions League! It was a Quarterfinal match at Anfield, the iconic home of Liverpool FC. The team were hosting another one of Europe's other premier clubs at the time, German heavyweights Bayer Leverkusen. Though my TV was small, and the sound quality wasn't great, even by the standards of 2002, you could instantly feel the energy from the crowd. 45,000 supporters, all standing, singing their lungs out, passionately rooting on their team in a country thousands of miles away from my house. The distance didn't matter though because at that moment, I felt like I was in that stadium. I always tell people that I fell in love with Liverpool FC's supporters first and then the players/style of play after. I was glued to the television for the remainder of the match and let out a roar accompanied with a fist pump once the final whistle blew and Liverpool won 1-0.
There was no turning back and from that day on, I was consumed by passion for the club. I sought out every match I could find that was televised and devoted every spare moment to learning more about the current squad and club's history dating back to 1892. The rest as they say is history.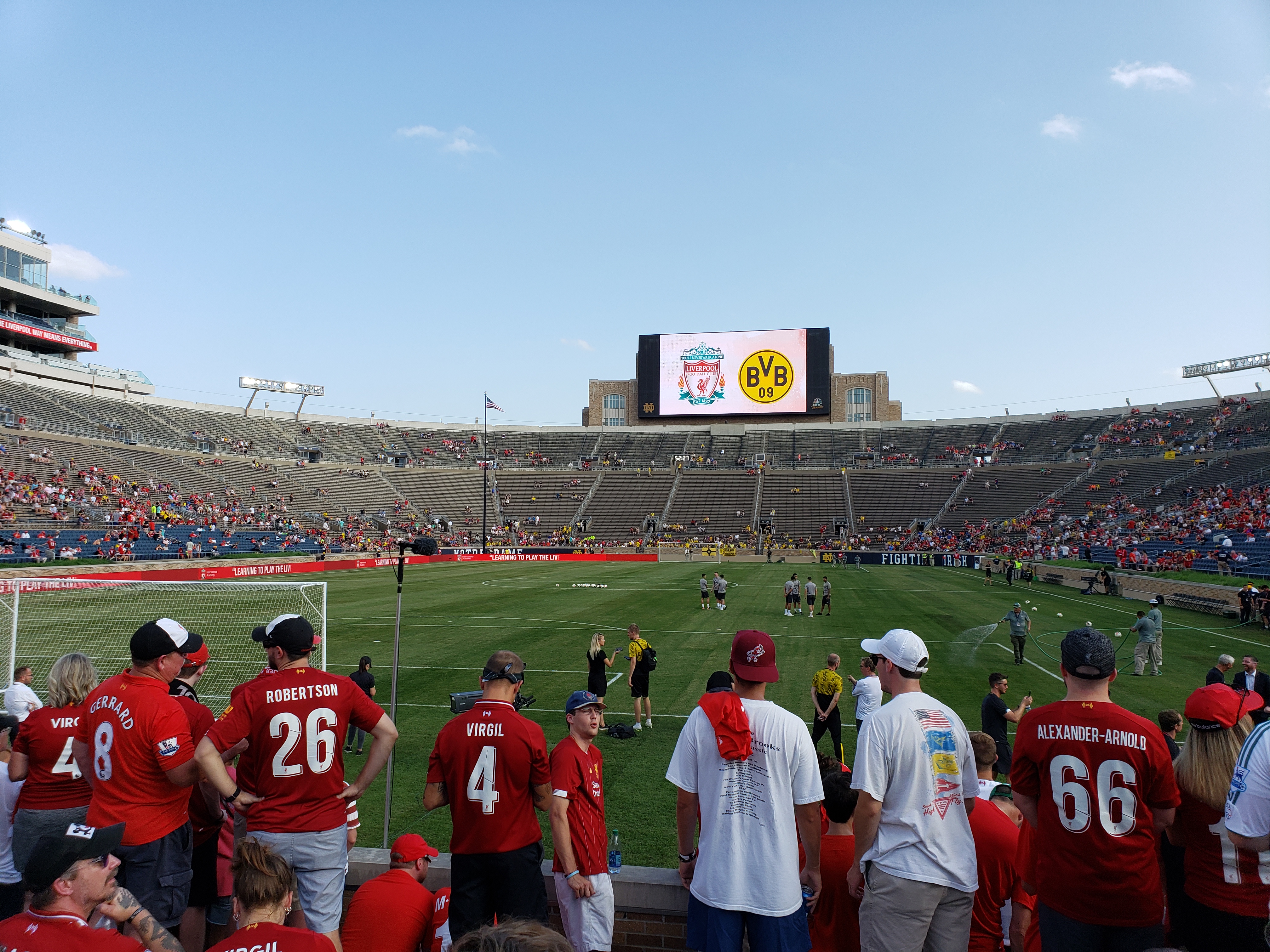 Fast forward to April of this year.
News broke that Liverpool were making a trip to America during the summer to play three preseason matches at Notre Dame Stadium, Fenway Park and Yankee Stadium. I'd missed other chances to see them play in the past, but this time the stars all aligned, and I had a perfect opportunity to get tickets and finally see the team play in person. A drive to Notre Dame Stadium is right at six hours and the college holds significance to my wife who was baptized there and her dad and other family members who attended the school. I was like a kid on Christmas morning when tickets went on sale and quickly nabbed three seats (one for me, one for her and one for a friend & coworker who has also become a massive fan) in the Liverpool supporters' section just behind the goal. Tickets were purchased, the hotel booked, parking scouted, vacation day planned. We were ready to go!
To try and put the experience into words would be an exercise in futility. I'll just say that being among tens of thousands of other Liverpool supporters who traveled from Alaska, South America, Europe and just about every other part of the globe made me realize how big this community was that I was part of. We sang famous club songs with other fans outside the stadium, we got to touch and take pictures with the Champions League trophy that the club won for a 6th time this year and less than ten rows from the pitch, I got to take in an experience I've been waiting for nearly 20 years. There were memories made that weekend that will live with me until the day I die. The club's motto and anthemic song, You'll Never Walk Alone, has turned into a battle cry for the millions of Liverpool supporters worldwide. While we all come from different backgrounds, races, religions, etc., we are all one in supporting the greatest sports team in existence.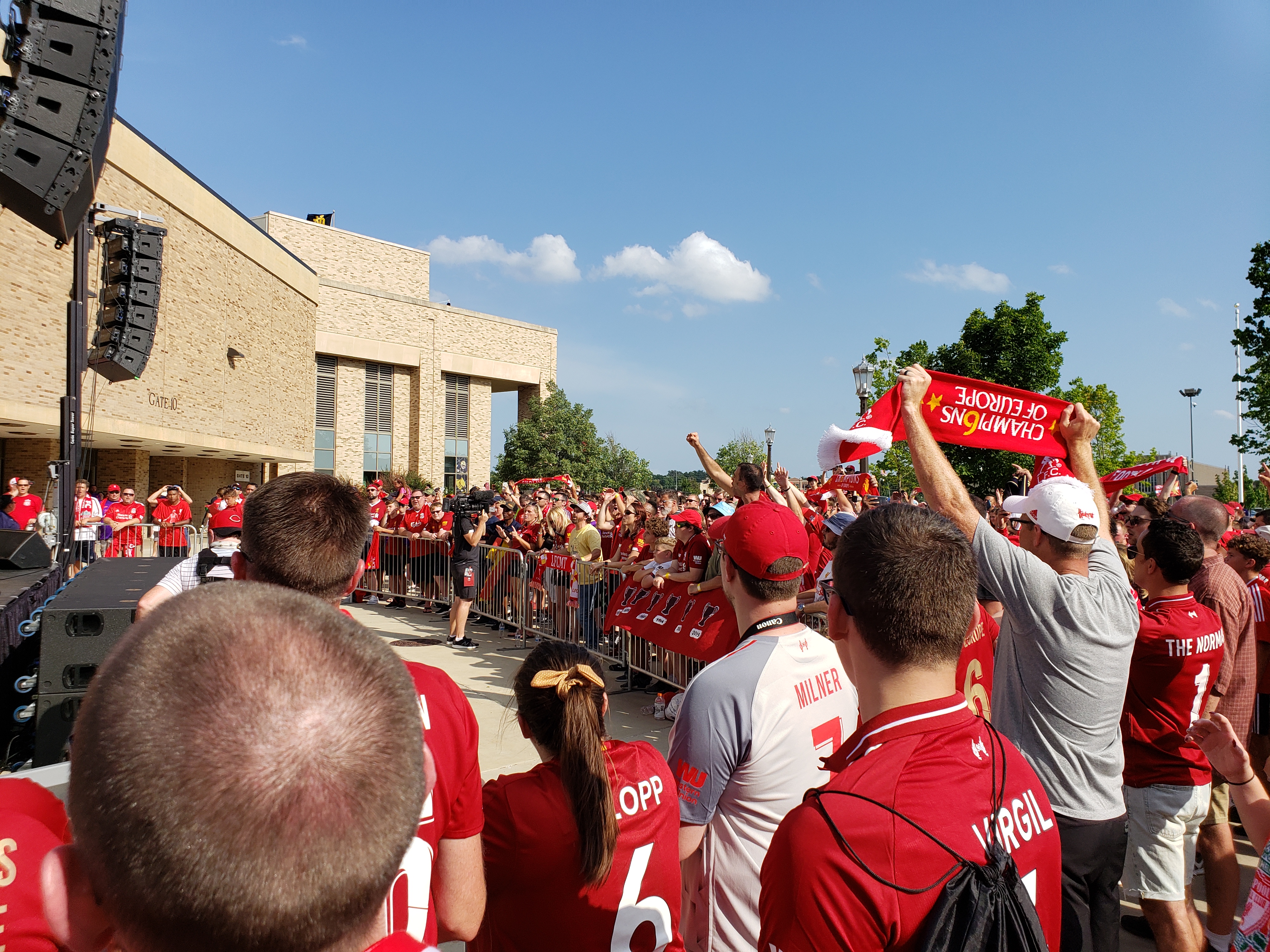 Did you know?
Liverpool FC has a huge following in St. Louis and LFC STL is the largest supporters' group in the city.
LFC STL was started 4 years ago thanks to contacts from New York City and Atlanta who helped become an official group recognized by the club.
There are currently 125 official members of LFC STL and surely many more around town that aren't signed up.
A membership costs $25 and with that you receive:

An LFCSTL supporter's shirt which is a new design each year.
A wristband for $1 off drinks during the match at The Amsterdam Tavern on Morganford in Tower Grove South.
Access to tickets to matches throughout the year upon request.
A members' party each summer.

LFC STL's official connections to Liverpool Football Club are an OLSC (Official Liverpool Supporters Club), meaning that the club recognizes them worldwide. (Because of this, LFC STL got to host a Legends Night several years ago that featured club legends such as Robbie Fowler and Luis Garcia.)
What level of community involvement does the group take part in?

SPENSA – Special Needs Soccer Association – As a part of being an official group, LFC STL needed to have a charity they are associated with. What better than one related to the sport itself?
Crohn's & Colitis Foundation – LFC STL likes to support their members and have a founding member who has Crohn's along with another board member's wife.
STL Area Foodbank – On Boxing Day (December 26th), LFC STL hosted a food drive which was a huge success.
*All answers courtesy of Karen Montgomery, member of LFC STL*. Learn more at http://lfcstl.com/index.html