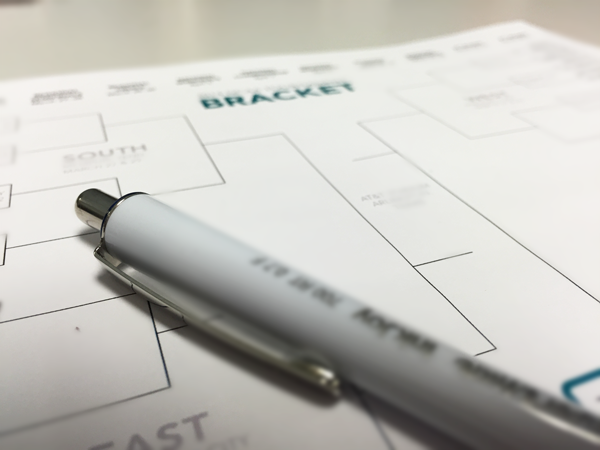 New data suggests running an NCAA Tournament bracket pool at work boosts office morale
We've all seen the news stories that show the estimates of lost productivity suffered by businesses during the NCAA basketball tournament. The numbers are staggering. But there's another way to look at the tournament that the numbers may miss: the tournament can be a great way for offices to come together and boost morale.
Half of senior managers interviewed for a recent survey said activities tied to the annual tournament boost employee morale, and more than one-third of them felt March Madness has a positive impact on workplace productivity. These results are up from 32 percent and 27 percent, respectively, from a similar survey conducted last year.
The survey was conducted by OfficeTeam, a staffing service for administrative professionals, and it sought feedback from more than 300 senior managers at companies with 20 or more employees in the United States.
The managers were asked whether they felt celebrating March Madness (either through bracket contests or watching games at work) had a positive or negative impact on employee morale:
Very positive – 9%
Somewhat positive – 41%
No impact – 43%
Somewhat negative – 5%
Very negative – 1%
The managers also were asked if they felt celebrating March Madness at work had a positive or negative impact on employee productivity:
Very positive- 6%
Somewhat positive – 30%
No impact – 49%
Somewhat negative- 13%
Very negative – 2%
Having the office rally around popular cultural events like the NCAA tournament doesn't have to be viewed as a distraction. They can even be used as opportunities to come together as a team and build camaraderie.
That said, there are five mistakes workers should avoid when celebrating March Madness:
Going against the playbook. Before participating in any tournament-related activities, find out your company's policies on employee breaks, accessing the Internet for non-business purposes and decorating workspaces.
Taking too many time-outs. If your employer is OK with it, take occasional breaks to check scores or talk hoops with colleagues, but make sure to keep up with your assignments.
Failing to have a game plan. If you want to take time off to watch the playoffs, let your boss know as far in advance as possible so he or she can manage workloads.
Being a poor sport. It's fine to root for your favorite school, but don't get overly competitive in the office.
Not being a team player. Even if you aren't a sports fan, try to join in on celebratory activities to bond with coworkers.
Good luck with your bracket!
---