If you're not familiar with the SmartChoice program, or it has been a while, here is a refresher with some new stats that show how well it's working for other customers.

Since New Year's represents blank slates and fresh starts, it seems like the natural first stroke on our 2016 canvas should be our SmartChoice Program. SmartChoice is Office Essentials. It's how we do business, and how we help the businesses that work with us succeed. Yet if you don't know us very well, you may not know about it, or how it can help you transform your business.
Yes, transform your business. We've seen it happen enough to know the program works, and if you're looking for better performance from your business in 2016, here's how it works.
We discovered that today's offices are constantly faced with the challenge of needing to do more with less. Rather than having those companies face the difficult choice of cutting back or going without, we sought to develop a program that would help these customers rethink the challenges and operations of their business.
We brought this vision to life with the development of our SmartChoice program, a comprehensive approach to helping companies with the true essentials of their business: saving time, costs and carbon. While most industry suppliers offer a transactional service, Office Essentials' SmartChoice program focuses on saving customers time and money while creating sustainable solutions for their business and our community.
Since no two businesses face the same challenges, SmartChoice evaluates the entire procurement process and uncovers savings in unexpected places. One customer wasn't seeing the savings they were expecting from a competitor. We discovered they were placing too many orders, creating too much paperwork and order management. We showed them how they could more effectively consolidate their orders, leading to a 50% reduction in the time they spent on their procurement process.
Another customer wanted to reduce their carbon footprint, but couldn't find a cost-effective way to reach their goal. We showed them that as a single source provider, we could reduce the number of deliveries to their facility by approximately 120 annually. This lead to a savings of 3600 pounds of carbon and over 3200 pounds of cardboard packaging in the first year of working with us.
Today we work with hundreds of St. Louis' best and brightest companies and cultural institutions. We've won their hearts and minds by applying the SmartChoice program to their companies.
We've also discovered the need for education continues. Our latest innovation is our Office Supplies Fun Truck, a vehicle we'll be using to further spread our message of creating healthier, happier work environments all across our community.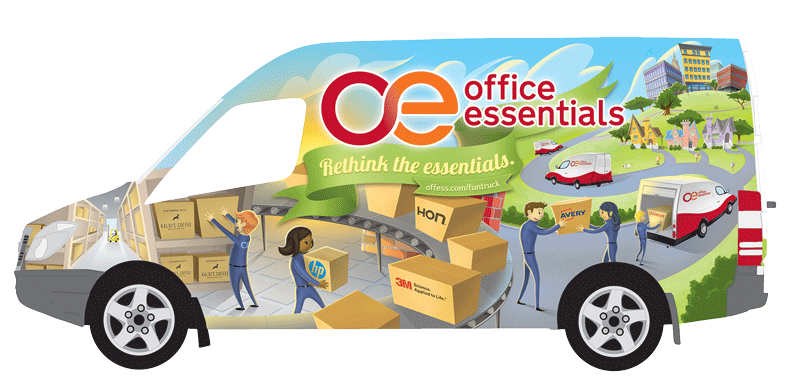 SmartChoice Program Accomplishments
Developed greener & greenest office supply product choices in conjunction with the Missouri Botanical Garden
Developed a reusable tote and "boomerang" box program reducing cardboard and packaging waste
Developed a Recycled Paper purchasing cooperative
Developed education outreach on sustainable product and process choices including
Innovations
Helped organizations reevaluate their entire procurement process finding unique ways to cut time, costs and carbon
Helped organizations reduce paper consumption up to 30%
Helped individual organizations decrease carbon by an average of 3,500 lbs.
Helped customers recycle over 80,000 pounds of paper, aluminum and cardboard last year
Launched the OE Fun Truck to further spread our message of creating a healthier and happier work environment across our community.
Learn More
If this sounds like a good fit for your company, please use our SmartChoice at a Glance page to send us your contact information and we'll get right back to you.