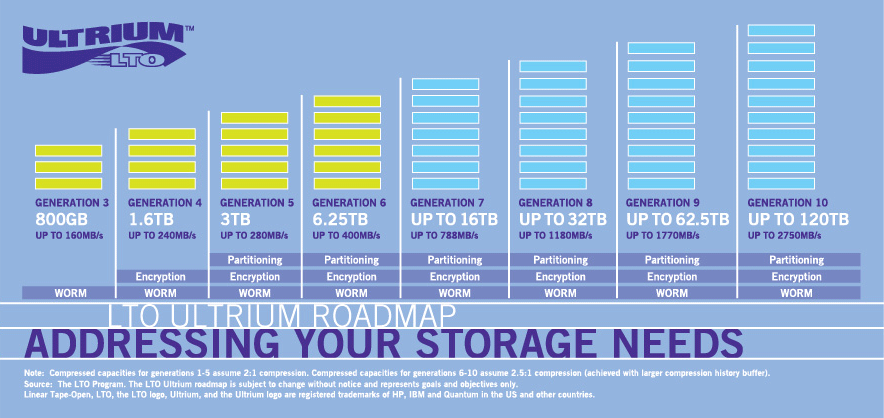 LTO Tape Program Extends the Technology Though Generation 10. This promises capacities of up to 120 TB per cartridge.
Today's announcement by the LTO Tape Program marks a great day for tape users in general, and LTO Tape users in particular. The group officially known as The LTO Program Technology Provider Companies (aka HP, IBM and Quantum) extended the LTO product roadmap to include two additional generations, 9 and 10, with even more capacity, throughput and value for the user.
Resilient to detractors due to their ability to meet the needs of big data cheaply, LTO tapes have enjoyed continued success. The technology has an installed base of 4.7 million LTO tape drives and there are over 250 million LTO cartridges in use today. Since the launch of the technology, over 100 million miles of LTO tape have been sold – more than the distance from the earth to the sun.
The Specs
The new generation guidelines call for compressed capacities of 62.5 TB for generation 9 and 120 TB for generation 10. Transfer rates are expected to increase at a more significant rate than ever before. Plans include compressed transfer rates of up to 1,770 MB/second for generation 9 and a blazing 2,750 MB/second for generation 10*.
"LTO technology continues to set the standard for cost-optimized backup and long-term archive storage," said Chris Powers, Vice President, Data Center Development Unit, HP. "With the extension of the roadmap, organizations can expect advancements in capacity and efficiency that lower costs by reducing management overhead and provide the flexibility needed to scale for future growth."
<
h3>Move data to tape at speeds of up to 10TB per hour
According to HP, the proposed new capacities and transfer rates are impressive. Gen 10 capacities are targeted to reach 120TB compressed in a single cartridge, which is the equivalent capacity of 600 generation 1 LTO cartridges! In addition to the huge capacity leaps, transfer rates are expected to reach a staggering 2,750 MB/sec (2.75GB/s) compressed. In contrast generation 1 of LTO was 40MB/sec.
This shows the great and consistent advances and innovation steps that the LTO Technology has delivered since it was first introduced back in the year 2000. In addition to capacity and transfer rate increases, features such as WORM technology, encryption and LTFS – together with enhanced reliability, low cost and ease of use benefits – have all contributed to the ongoing success and expansion of the technology.
LTO Overview
The two future generations will continue to provide the same conveniences and features that have made LTO technology the tape storage option of choice for millions of users. Each new generation will include read-and-write backwards compatibility with the prior generation as well as read compatibility with cartridges from two generations prior, helping to protect investments and ease implementation. Other features include Write Once, Read Many (WORM), encryption and partitioning – which allows for Linear Tape File System capabilities to enable easy file location and broader compatibility.
The current generation of LTO technology – LTO generation 6 – supports tape cartridge storage compressed capacity of up to 6.25TB, more than twice the compressed capacity over the previous generation, and tape drive data transfer rates of up to 400MB per second for over 1.4 terabytes of storage performance an hour per drive. As with previous generations, LTO-6 drives provide backward compatibility with the ability to read and write LTO generation 5 cartridges and read LTO generation 4 cartridges, helping to preserve media investments and ease implementation.
Office Essentials Knows LTO Tape
Office Essentials has been meeting the needs of our tape customers since the technology was invented. We know how critical your business data is and we take seriously our role as the tape provider of choice for our customers. We can handle your barcoding needs, get you your preferred brand at a competitive price, and do it accurately and fast.
We'd love to talk tape with you.