The Make Your Mark on Work Open House is March 5. Make plans to join us. RSVP here.
This year, our mission is to help our customers elevate their workplace. Since we all have to work, we might as well make our workplace enjoyable and be happy in our jobs, right?
Well, in a way, we've always done this with our Smartchoice program, which is a process we go through with companies that identifies the things that are important to them – eg. consolidating vendors, being more sustainable — to find ways for us to help them to reach those goals.
Now, we are kicking it up by bringing you new and intriguing ideas to elevate your workplace. For example, we have partnered with Kaldi's Coffee, an iconic St. Louis-based coffee roaster, to bring you their coffee in your office. You can order it with your regular supplies, and it comes (via free delivery) with the rest of your order.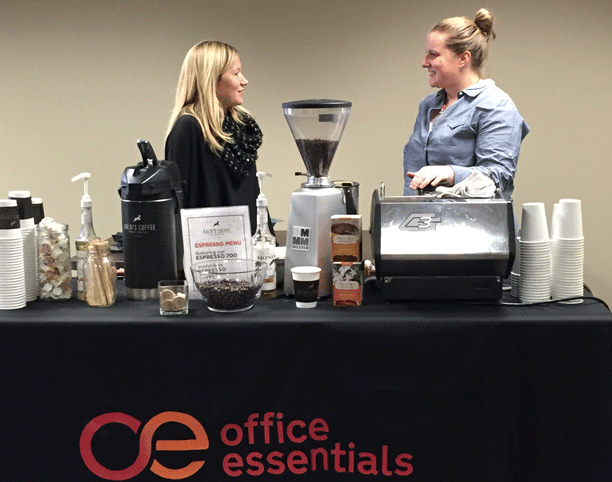 To get this started right, we are having an open house on March 5 from 9am to 1pm. We'd love for you to come by and see what's new and have lunch with us. Kaldi's will be here, brewing up some delicious coffee and Rich Radil, our Coffee and Breakroom Manager, will be on hand to talk to you about how you can ditch your office coffee service and bring Office Essentials and Kaldi's in and save.
Our Technology team will be there, too. Technology is a product category that a lot of people don't realize we have, or if they do, how strong it is. We offer hardware, printers, toner, cloud-based backup service, and we have the techs and know-how to service all of it. On this day, Tech will be demonstrating our revamped Autopilot Print Management program, which is geared towards small and medium businesses, as well as making sure you know about all the benefits OE offers that you might not be aware of, like free printer service.
Hon and our furniture designers will be on hand as well to show you our recently updated furniture showroom where you can view the latest trends in space planning and office furniture, as well as some of the coolest seating options on the market.
Space for the open house is severely limited and going fast…please click here to register today!