HP has launched a dual attack on the copier market.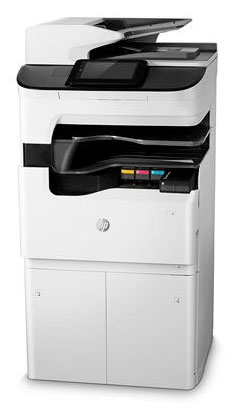 After announcing that they were buying Samsung's printer business, they unveiled their own line of 16 A3 printers. The new multifunction printers (MFPs) are additions to HP's PageWide and LaserJet lines. All offer state of the art features and security functions that HP hopes will set them apart from competing models.
"HP is entering the A3 market in a big way with a fresh eye to the marketplace," said David Laing, worldwide vice president of contractual channels at HP Inc. The new A3 line includes three PageWide and 13 LaserJet platforms, representing a total of 54 SKUs with a full range of finishing options. Print speeds for the PageWide models range from 40 ppm to 60 ppm, but a "general office" mode can boost that to 80 ppm. The LaserJet line print speeds range from 22 ppm to 60 ppm. The HP PageWide Pro and HP LaserJet Managed MFPs will be available in spring 2017. HP PageWide Enterprise models will follow in the fall of 2017.
HP Smart Device Services
While all of HP's new printers offer speed and color affordability, the biggest advantage over copiers is the total cost of ownership savings, in part driven by another offering announced on Monday, HP Smart Device Services. This is a set of cloud tools and device-based sensing capabilities, designed to enhance the service experience. It monitors and diagnoses many service needs to minimize downtime and cut costs. For example, the service can anticipate parts servicing before the part fails and avoids premature ink and toner replacement.
The simplicity of the PageWide models also reduces service requirements. They have only three replaceable components. That simplicity also contributes to lower power consumption for the PageWide models.
World class printer security
Print security is a key consideration in the engineering of the new HP A3 MFPs. You want to protect your intellectual property and your confidential information. The HP PageWide and LaserJet Enterprise devices feature industry-leading embedded security features including Sure Start, run-time intrusion detection, and whitelisting, making them the world's most secure printers. The HP PageWide Pro devices will feature best-in-class security with features such as secure boot and firmware integrity checking.
All of the new HP PageWide and LaserJet devices can be used with HP's security services and JetAdvantage portfolio of management and security software, including the recently announced JetAdvantage on Demand cloud platform, reducing the burden on partners to secure and manage these devices.
Office Essentials Knows HP
Email us today to talk about HP.