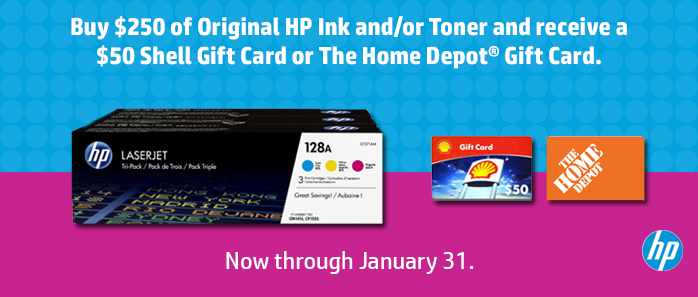 HP Toner Rebate Offer
Buy $250 of Original HP Ink and/or Toner and receive a $50 Shell Gift Card or The Home Depot® Gift Card.
Limit of two (2) Shell Gift Cards per qualifying end-user customer address during the Promotion Period.
Original HP Toner must be purchased at the same time, on the same invoice during the Promotion Period.
Promotion Period
January 1st - January 31st 2017
Process
Submit claim form online to hp.com/go/newyearinkandtoner OR complete the mail-in form and mail to:
HP Supplies – Ink and Toner New Year
Offer # T378
P.O. Box 750608
El Paso, TX 88575-0608
To qualify for this HP toner rebate, you must include:
Original or copy of invoice(s), receipt(s), or packing list(s) dated during the Promotion Period with the purchase price(s) circled for each qualifying product purchased.
Original UPC (12-digit number with barcode)/security seal/hologram proof of purchase from product box for each qualifying product purchased.
If mailing, you must complete a separate mail-in form for each invoice submitted and place each in a separate envelope.
Request must be submitted via the URL within 30 days of purchase or mail-in form(s) must be postmarked within 30 days of purchase.
Once received and processed (allow 8–10 weeks for processing), HP will mail the gift card to you.
To check your rebate status, please visit h30172.www3.hp.com/Rebate/Status.asp.
Questions? More Information