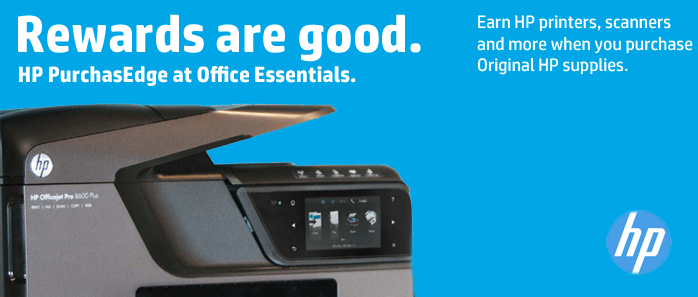 Need more from every dollar? Original HP Supplies deliver the #1 value every time you print. And when you join HP PurchasEdge, they can also deliver the value of new HP product rewards such as HP printers, scanners and more, right to your office.
Program eligibility
If your company operates in the US or Canada and spends more than $500 on Original HP printing supplies annually, you're eligible.
Participation
To participate, just enroll and shop for Original HP Supplies. Office Essentials will submit your invoice information for you, and you'll earn one point for every $4 you spend on 1,900+ qualifying HP supplies. And when you recycle HP LaserJet and ink cartridges through the HP Planet Partners program, you'll earn additional PurchasEdge points, while reducing waste.
We'll give you 150 welcome points the first time you log in to www.purchasedge.com. And it only takes 200 points to be able to redeem HP product rewards.
You'll have access to account information, program news, exclusive promotions and more at www.purchasedge.com and in quarterly communications.