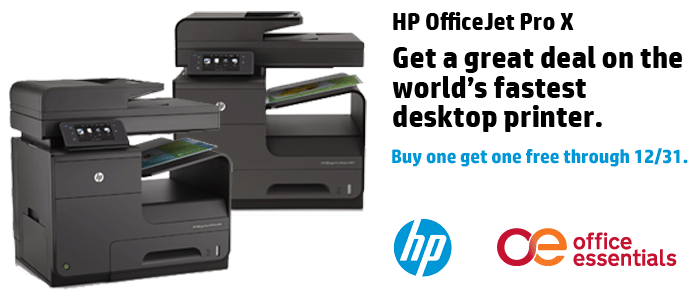 HP thinks their new OfficeJet X business inkjet printers are so revolutionary, they want to give you two for the price of one.
There are two main types of printers that people use to handle their day to day printing needs: inkjet and laser. The technology each uses is very different, and each has settled into its own territory. When you think about inkjet printers, you probably think about home offices. Due to their low price, inkjet printers seemed to become the choice for home users, while businesses stuck with lasers – known for their ability to crank out large volumes at a low cost per page.
HP is now trying to bring inkjet back to the office with their OfficeJet X printer series, a new business class inkjet printer that can print up to 70 pages per minute at a low, toner-like cost per page.
This printer family is different from other inkjet machines. It uses HP's PageWide Technology which means that the inkjet print head is the width of the page and is attached to the printer frame. The print head does not move back and forth across the page. This greatly increases the speed of the machine along with providing other benefits.
[Tweet "Get two of the world's fastest printers for the price of one"]
We could go on talking about the technical specs but this video gives you a better idea of why the OfficeJet X series might be a great for for your company's printing requirements.
And if you would like more information, or want to take advantage of the deal, please contact us.