Hopefully by now you've seen that we're giving away a new HON Ignition chair to a lucky customer. I know you have an ugly chair around your place so you need to enter because who doesn't need a free HON chair? And if you're in the Columbia Missouri area, let me know if you want me to swing by and take a picture for you — you know I love to look at these ugly chairs!
In fact, I found this pretty stellar one on a curb recently that I ALMOST brought back to the office, but I draw the line at dumpster diving in the name of work. Fun fact? It, too, is a HON! 😊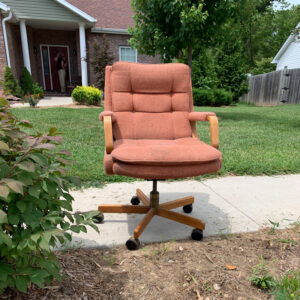 Office Essentials' "Ugly Office Chair" Contest.
Is your current office chair ugly? Has it seen better days? Is the fabric torn or stained? Style out of date? If so, then take a photo of it and send it to us! We'll select the "ugliest" chair and its owner will receive a brand-new HON Ignition Chair. No purchase necessary.
CONTEST RULES:
Contest Dates: July 8th – August 30, 2019
How to enter: Take a picture of your "ugly" chair and upload it in the comments of our Ugly Chair Contest thread on OE's Facebook page. (It's the first post when you go to our page.)
If you don't have Facebook, you can enter via email, by sending a pic of your ugly chair to

[email protected]

, and we will post it for you.
After the contest ends, we will notify the winner. Full details on the promotion are available here.