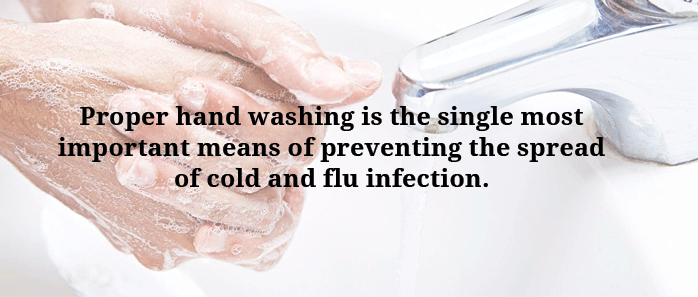 Knowing how to wash your hands is the single most important means of preventing the spread of cold and flu infections. Here's how to wash your hands properly
This post originally appeared on the website of our cleaning and breakroom partner Georgia Pacific. We thought it was good information to pass along.
Hands should always be washed and dried:
Upon entry to the work area.
As often as needed to remove soil and prevent product contamination.
Before and after eating and drinking, and after smoking or completing the handling of money.
After using the toilet.
After sneezing, coughing onto hands, or touching the face, hair or clothing.
After touching any dirty surface, soiled equipment or utensils.
Between glove changes.
When switching from raw food handling to cooked or ready-to-eat food preparation.
Towels or dryers?
A University of Westminster study found that high-speed dryers increase bacteria count on hands by up to 42 percent, and warm-air dryers increase bacteria by up to 254 percent. Paper towels actually reduce bacteria on hands by up to 77 percent after washing and drying hands.
Paper towels also get the job done faster—drying hands in as few as five seconds, while air dryers require as many as 15 to 18 seconds. Air dryers also produce considerable noise, with decibel levels of 95 and higher—the same as a subway train at 200 yards. Touchless paper towel dispensers like enMotion® are only as noisy as a normal conversation. Paper towel dispensing can even save money over time, compared to air dryers.
Hand sanitizer
Sanitizing your hands is the next best thing when running water isn't available. Alcohol-based hand sanitizers that contains at least 60% alcohol can quickly reduce the number of microbes on hands in some situations, but sanitizers do not eliminate all types of germs.
How do you use hand sanitizers?
Apply the product to the palm of one hand.
Rub your hands together.
Rub the product over all surfaces of your hands and fingers until your hands are dry.
Other GP HealthSmart tips
Knowing how to wash your hands is one of the best ways to avoid the spread of germs and to avoid cold and flu viruses, but it is not the only thing you can do to protect yourself. Below are some additional common-sense precautions that can help reduce the spread of germs and keep you healthy.
Stay home if you are sick.
Avoid close contact with other people who are sick.
Don't share drinking glasses or utensils with other people.
Clean and disinfect frequently touched surfaces.
Avoid touching your eyes, nose or mouth.
Sneeze and cough into tissues, or into the bend of your elbow if tissues are not available.
Get an annual flu vaccine.
Get plenty of sleep, be physically active, manage your stress, drink plenty of fluids and eat nutritious foods.
Still don't believe us?
Here's a video we did for National Handwashing Day that drives home the importance of clean hands.
What the CDC says about hand washing
Handwashing is one of the best ways to protect yourself and your family from getting sick. Learn when you should wash your hands and how to wash your hands properly to stay healthy.
More Information
If you would like to learn more about protecting your office from germs, our facilities and cleaning supplies manager can help design a strategy for your office that keeps employees healthy and germ-free. Please reach out Office Essentials team member today.
---