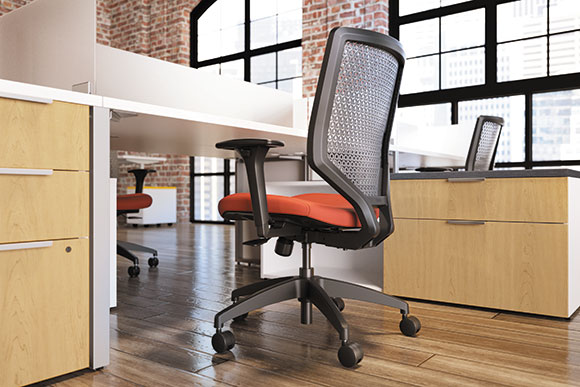 The HON Solve line of high-performance task chairs now has new features to make them even more comfortable.
Solve is now available with a Titanium frame, four new ilira®-stretch mesh colors and additional arm options.
"Solve has done very well since its launch because it appeals to a wide variety of users and is the right fit for virtually anyone," said Brian Trego, Vice President, Product Management and Development at The HON Company. "We've taken what customers already love about this innovative seating solution and expanded the offering to increase that appeal and continue to meet the needs and demands of our customer."
Expanded Solutions
Titanium frame – A first for HON, Solve's Titanium frame provides designers and users a new aesthetic to define the style of their space.
Additional ilira®-stretch mesh color options – In addition to Black, Solve's back is now available in Navy, Chai, Charcoal and Fog.
Arm options – Solve now offers fixed and 4D adjustable arms as well as the current 2D height and width adjustable arms.
Solve Provides Day-Long Comfort
Solve's responsive design adapts intuitively to user movement to provide continuous comfort and ventilation options through three unique back materials:
Mesh Back – breathable ilira®-stretch mesh provides responsive support and leverages the user's weight to create a softer sit
ReActiv™ Back – a flexible material with a distinctive hexagonal design that offers the breathability of mesh while providing the support of a standard back that flexes independently and moves with the user to deliver continuous support and comfort
Upholstered ReActiv Back – an optional upholstered front increases support and thermal comfort
"Every employee is different and people are looking for flexible seating to provide support throughout their work day and throughout different work environments within the office," said Trego. "Solve provides just that."
Think Office Solutions for office furniture!
To learn more about HON Solve seating, or to see our full line of office furniture solutions, visit our office furniture page.