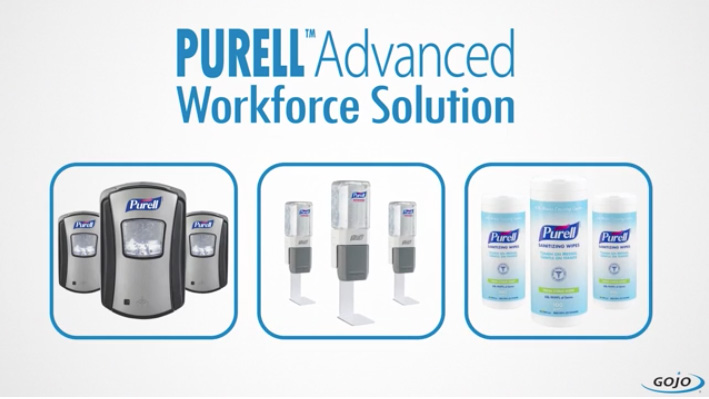 Landmark Study Proves PURELL Advanced Workforce Hand Hygiene Solution Reduces Insurance Claims
We always knew hand hygiene was important, but maybe not this important. For example, did you know that germs on hands can be transferred up to seven times, making all of those frequently touched surfaces in the office hot spots for viruses. No wonder a virus can spread through an entire office in just a few hours. Some germs can even live for days on hard surfaces, so hot spots like door handles, keyboards, light switches, desktops and elevator buttons should be cleaned even more often. And don't forget about the kitchen. Breakrooms have some of the germiest surfaces in the entire office: sink faucets, microwave and refrigerator handles.
A recent 13-month study conducted by Medical Mutual of Ohio and our partner GOJO was the first to prove a direct link between the availability of a comprehensive hand hygiene program and a reduction in healthcare insurance claims tied to hand hygiene preventable illnesses.
The program – the PURELL™ Advanced Workforce Solution – reduced related claims by over 24%, and reduced absenteeism by over 13%. This reduction in claims means that implementation of the PURELL Advanced Workforce Solution pays for itself with hard cost savings.

The breakthrough study impacts healthcare claims, absenteeism and employee attitude:
Healthcare claims tied specifically to hand hygiene preventable illnesses were reduced by 24%
Absenteeism reduced by over 13%
8 out of 10 employees indicated having Purell products throughout the office positively impacts their impression of their employer.
Did you know?
When provided, Purell Hand Hygiene products have more impact on overall impression of the office space than:
Free coffee/soda
Low cost food
Filtered water
Recycling program
ATM/bank

We can make hand hygiene happen in your office
We've already helped some of the biggest companies in St. Louis and Kansas City, and we'd love to help you. Email our facilities product manager today for more information.