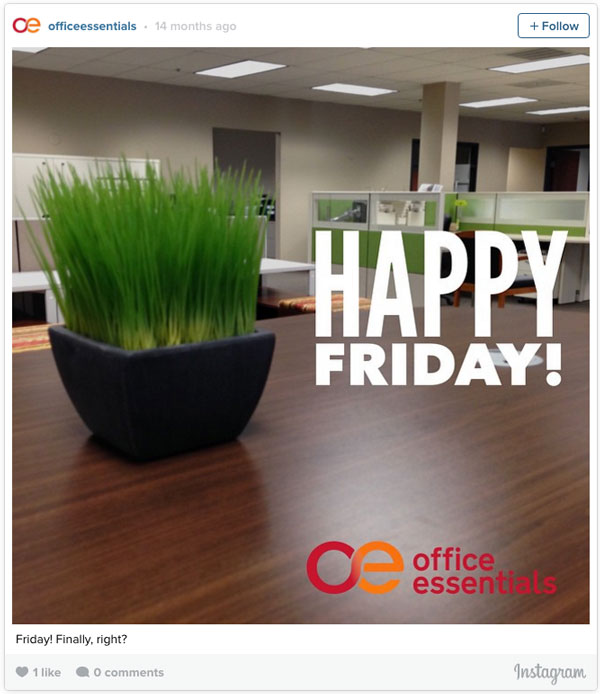 Happy Friday! Here are a few interesting items we found this week that you can use to drop some knowledge on your co-workers during your next coffee break:
The St. Louis Cardinals attendance tops 3 million…again — Just as the team wrapped up another National League Central Division Championship, Office Essentials wrapped up our first year of sponsoring the St. Louis Cardinals. This week we learned that our digital sign at the ballpark was seen by 7 million eyeballs! The Cardinals announced that total attendance at Busch Stadium this season was 3,520,889, the 12th season in a row in which the team's attendance has topped 3 million. According to data released by the Cardinals, the team sold out 37 games and average attendance per game was 43,468 fans. The Cardinals had the second highest total attendance in Major League Baseball, according to data from ESPN. Only the L.A. Dodgers, with total attendance of 3,624,036, ranked higher.
Coffee exhibit opens at the Missouri History Museum — This week was National Coffee Day, a day dedicated to the beverage that many of us consider an essential part of the work day. Tomorrow (10/03) a new exhibit called Coffee: The World in Your Cup & St. Louis in Your Cup opens at the Missouri History Museum:
Part traveling exhibition and part exhibition created by the Missouri History Museum, Coffee presents a unique experience for museum visitors. Roughly one third of the overall exhibit space consists of Coffee: The World in Your Cup, a traveling exhibition organized by the Burke Museum of Natural History and Culture in Seattle. The St. Louis in Your Cup portion of the exhibition, which encompasses the majority of the exhibit space, was researched and prepared by the Missouri History Museum staff, drawing from the organization's own collection. Together, these two stories make up the 6,000 square foot exhibition that is Coffee: The World in Your Cup & St. Louis in Your Cup.
There are some cool, and free, opening weekend events on Sunday October 4. Check them out here.
Speaking of Coffee — here are 16 facts about coffee you may not know from Mental Floss. For example, did you know it would take over 70 cups of coffee to kill a 150-pound person? Check the rest of them out and wow your coworkers with your knowledge of useless facts.
Congratulations to the Kansas City Royals — While it technically didn't happen this week, we do have an office in Kansas City, too, so we want to pass on our congratulations to their Royals for winning the American League Central Division crown. Obviously, everyone here at Office Essentials is pulling for a St. Louis — Kansas City World Series.
10 Proven Tips To Be Happier At Work — We think it's important to be happy at work. Last week we wrote a post about it. If you missed it, now is your chance to check it out. Here are 10 proven tips to be happier at work, courtesy of OfficeVibe.com.
---
Have a great weekend! If you have a minute, follow us on your favorite social network…or all of them: Facebook, Twitter, or LinkedIn.