My Kansas City Chiefs Super Bowl Story
I'm still coming down from the high that was Super Bowl LIV victory for the KC Chiefs and the ENTIRE #chiefkingdom. ANYTHING Chiefs related is squirrel bait for me these days—a complete distraction, which is sometimes needed.
I grew up in a small football town in North Missouri. My brother played football from as early of an age as I can remember and I was on the dance team during THE 1993 State Football Championship game, the only time in history my alma-mater has taken the trophy. I understand the game AND I was a part of the game–I was the "extra player" when half of the first elementary, then JH, then HS football players showed up at our house every snow day to play. Don't worry, I was the designated quarterback most of the time and couldn't be tackled. I grew up LOVING football.
My brother and my daddy were given Chiefs season tickets when we were in high school. I didn't get to go to many games, but I DID go to at least one preseason game and at least one regular-season game each season (opening deer season weekend). The one thing about Chiefs fans I learned from a young age—if you like them, you LOVE them. If you don't like them, you HATE them. There is no middle ground.
It doesn't matter if it is the best of times or the worst of times for the Chiefs, the atmosphere of #chiefkingdom at Arrowhead Stadium and the energy around any member and can't be explained. I have had SO MUCH FUN watching this atmosphere spill over into first Miami/nationwide and then daily life locally following Superbowl LIV.
To step back from office supplies for a moment, I have to say…watching people from all different dynamics unite over their love for #chiefkingdom has been a sign of hope for me, at a time we all seem so divided.
I'm not talking about politics, but if that's where your mind went, you could probably include that, too. It doesn't matter if someone is male or female, black or white, rich or poor, friend or foe, old or young, tall or short—I could go on but you get the picture—we are united in cheering for the Kansas City Chiefs and celebrating their victory.
It's no different for us at Office Essentials. We may be based in St. Louis with branches operating locally in Kansas City, Columbia, Rolla, and both Springfield MO and IL, but during these past weeks, we have all been a part of #chiefkingdom.
I took my own #chiefkingdom energy around here in Columbia. In fact, I wore the exact outfit every Wednesday before the playoff games and then the Superbowl. Each Wednesday, I see one of the most loyal members of #chiefkingdom I've ever met, and we both became incredibly superstitious—down to our daily outfits–as the playoffs progressed.
OE's local Kansas City Branch opened in 2007, contributes 10 members to #chiefkingdom and enjoyed watching everyone celebrate across the KC area with many businesses and schools being closed for the championship parade 50 years in the making.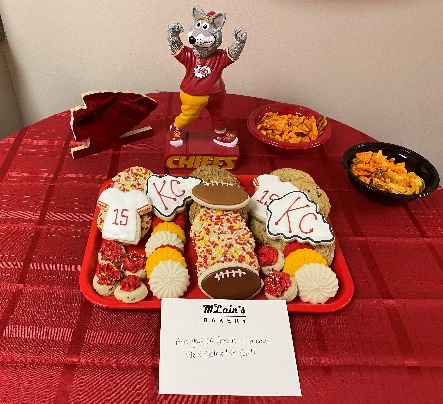 "It was a slow day for business," said Bryan Woolworth, Business Development Manager in KC, "…any customer I saw that was open had the parade and rally showing on all TV's." Woolworth wasn't able to make it to the parade on February 5th but was part of the OE Tailgate Party held by local employees the Friday before the big game.
As much as we enjoy being Mid-Missouri's largest independent option for business supplies, we enjoy being a part of each local culture in which we live even more. After all, we work here and play here, too!
Congratulations to the Kansas City Chiefs, Super Bowl LIV Champions!
We are PROUD to be a part of #chiefkingdom! #GOCHIEFS!
Order your very own Kansas City Chiefs Super Bowl Champion Chair Mat!