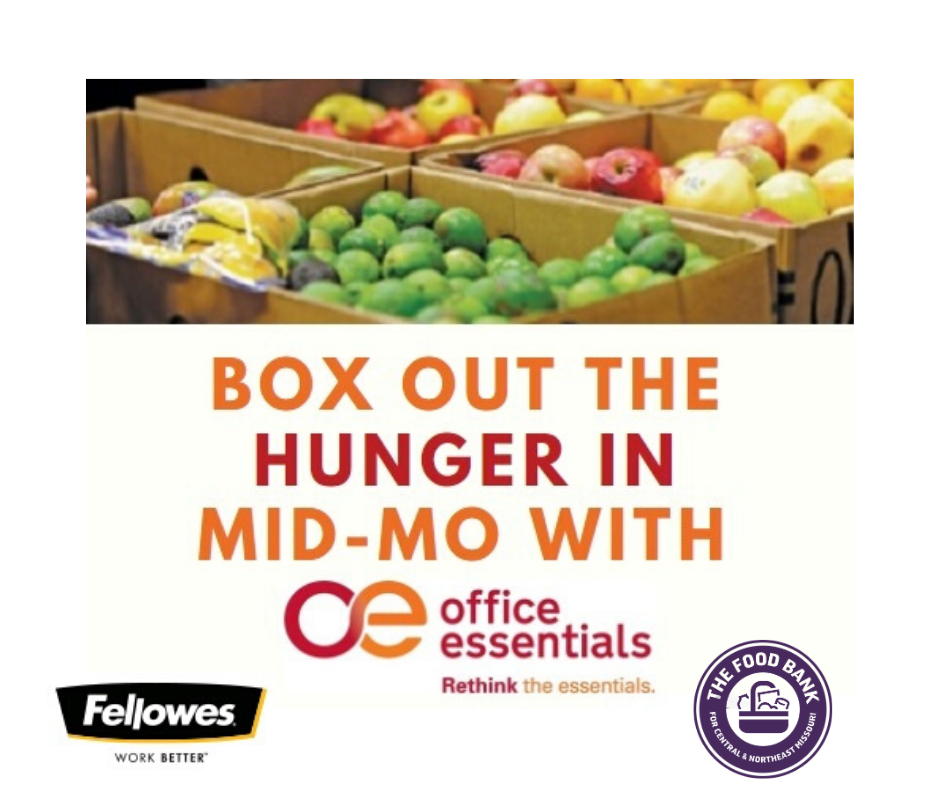 Giving back to the communities in which we live, work, and play is an important part of Office Essentials and our Mid-Missouri location embraced this pillar of our culture by asking the Columbia community to "Box Out the Hunger in Mid-MO" in partnership with The Food Bank for Central and Northeast Missouri and Fellowes.
During the planning of the recent grand opening celebration and product show held in Columbia on December 4th, employees decided the best way to thank their community for supporting their office was by giving back in a special way that would be unique to the products and services they provide in Mid-Missouri.
Bankers Boxes are strong enough to support multiple canned goods and other sustainable food products, have handles and a lid for easy transport, and are a commonly purchased product at the end of the year so the awareness is increased.
The Food Bank for Central and Northeast Missouri serves an average of 100,000 people each month and works with 140+ partner pantries, soup kitchens, shelters and other partner agencies in a 32-county service area and is the ONLY food bank in Missouri (and one of few across the country) that provides food at no charge to partner agencies and recipients.
Not only are the boxes being offered at a discount for Columbia distribution, but orders will also be delivered directly to the Food Bank by Office Essentials, who will be donating proceeds to the Food Bank for the purchase of additional groceries to neighbors in need.
Why? Because we live here, work here, and play here, too. Help Box Out the Hunger in Mid-MO! If you would like to get involved, please download this form and follow the instructions on it.