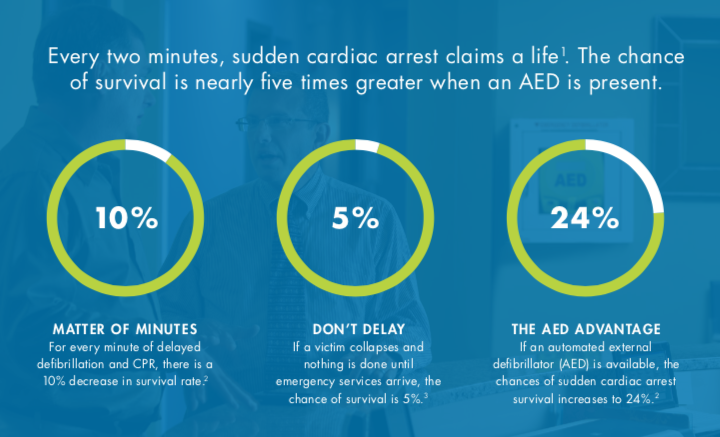 By now, all Blues fans have heard about the horrifying events at the team's game last night in Anaheim. Blues defenseman Jay Bouwmeester collapsed on the teams' bench due to a cardiac event. Fortunately for him, but owing to the inherent risk in his line of work, his workplace was well-equipped to handle such an emergency. Most workplaces are not, however, and that is the lesson to take away from this near-tragic event because sudden cardiac events like this are not uncommon. In fact, someone dies from one every two minutes in this country.
So, if this rattled you, even in the slightest, you should go and take the most basic CPR class available near you. Even the most basic knowledge and skill level can save someone's life if something like this happens in your day to day life. It's not a hard skill to learn, and even knowing compressions can be enough to help someone until EMS arrives. Use this situation to better yourself and potentially save someone's life.
Better yet, make sure your workplace is properly outfitted with AEDs, which stands for automated external defibrillator. When AEDs are available, the chances of sudden cardiac arrest survival are nearly five times greater.
Consider these statistics:
There are 350,000 out-of-hospital cardiac arrests in 2016
There is a 10% decrease in survial for every minute of delayed defribulation
5% chance of survival if victim collapses and nothing is done until emergency services arrive
Read More: Quick-thinking Teacher Saves Coworker's Life With An AED Device and Are you Equipped to Handle a Cardiac Arrest at Work?
THE ZOLL AED PLUS ADVANTAGE: REAL CPR HELP
At Office Essentials, we use and recommend The ZOLL AED Plus®, the first AED with Real CPR Help® to help rescuers know when they are administering high-quality CPR. Today, the ZOLL AED Plus continues to be the benchmark for design, dependability, durability, and performance.
IMPROVED PATIENT OUTCOMES
Research has shown ZOLL defibrillators equipped with Real CPR Help, which provides real-time feedback for depth and rate of chest compressions, combined with training, more than doubled the chance of survival from cardiac arrest.
WANT TO KNOW MORE ABOUT HAVING AN AED IN YOUR WORKPLACE?
Please take a moment to answer our AED questionnaire and we will get back to you with more information right away.