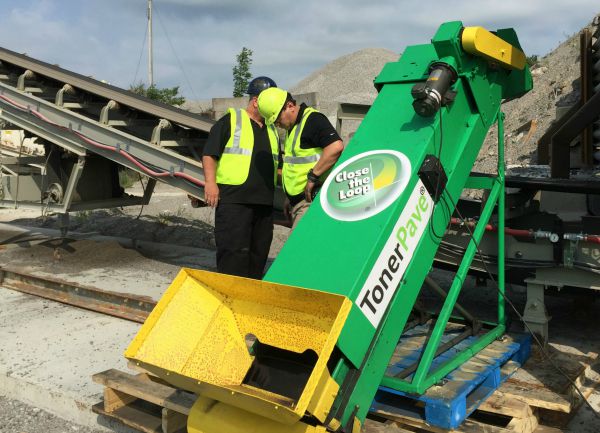 Empty toner cartridges, if simply thrown away, are terrible for the environment. They basically sit in landfills forever. This is why we're pretty aggressive here at Office Essentials about recycling empty toners. And while, keeping them out of landfills is a good thing, what to do with them instead is a challenge. Only so many of them can be recycled into toner cartridges again.
This has put a lot of people in the industry on the hunt for creative ways to repurpose them. Our partners at Lexmark have come up with a pretty cool one. A parking lot at their headquarters in Lexington Kentucky was paved with the first commercial application in North America of TonerPave, an asphalt made from recycled toners.
At a glance, the pavement put down recently outside a building at Lexmark's corporate headquarters in Lexington, Ky., looks no different from typical asphalt. But at Lexmark, it represents an opportunistic solution to an old problem — what to do with leftover toner — and for the asphalt and printer industries, it could mean a major development in sustainability.

Put simply, the asphalt contains more than 9,000 pounds of toner captured from what remains in recycled printer cartridges.

The parking lot on Lexmark's Lexington campus is the first commercial application in North America of a product called TonerPave, which uses the same toner powder used in Lexmark printers to make asphalt — and possibly make it better.
TonerPave was developed by Lexmark's longtime sustainability partner Close the Loop, an Australia-based company that recycles printer cartridges from Lexmark and other companies at its plants, including one in Hebron, Ky.
Close the Loop developed an asphalt additive, a composite incorporating waste toner and other recycled materials called modified toner polymer, or MTP. The new additive improves the asphalt quality and performance, with an environmental benefit of producing low-carbon asphalt at no additional cost. Thus was born TonerPave.
If long-term observations of TonerPave bear out the results from the past year, it could prove to be an asphalt improvement for equal value. Performance of the pavement used in the Lexmark paving project will be evaluated over time and compared to the traditional asphalt control. We'll keep you posted.
More Information
If you would like more information about our toner recycling program, please send us an email.
---