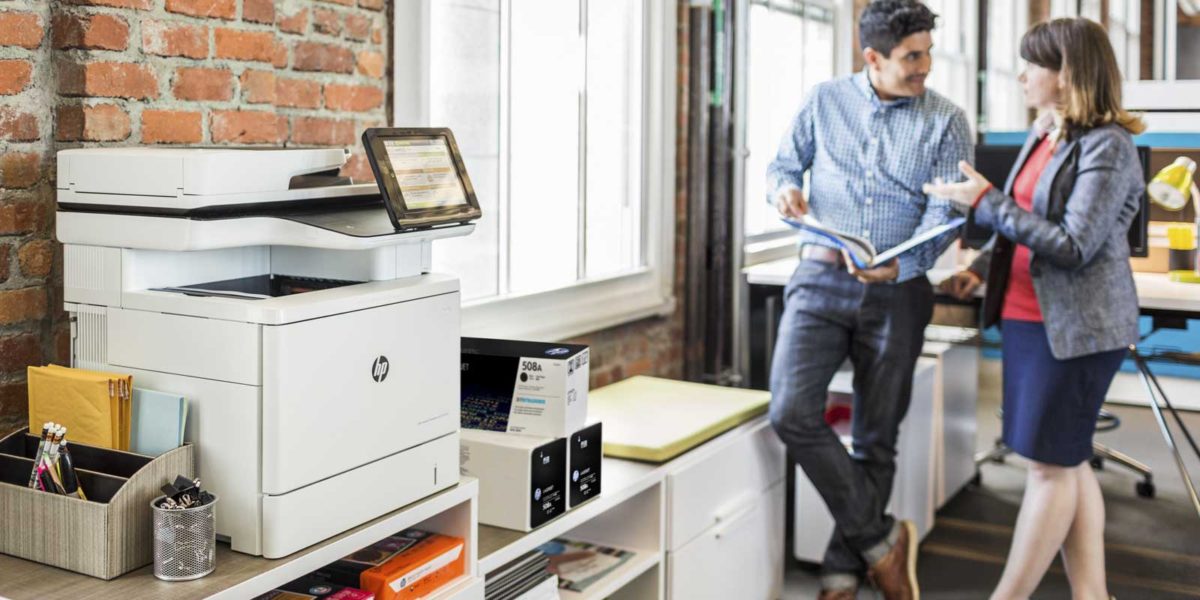 Here at Office Essentials, we pride ourselves on doing more than simply selling products and services to our customers – helping them save time, cut costs, and reduce their carbon footprint is part of our daily mission. Choosing the right hardware for your company can make all the difference in meeting needs and goals, from connectivity to reliability to efficiency.
Outdated printers can be a major financial albatross for the office, especially at small businesses. If you don't know what to look for, the wrong equipment can cause production slowdowns, eat up valuable resources, AND cost more than they need to.
Newer, more energy efficient printers help to consolidate workflow, provide more robust output while being easier to use AND save on the Total Cost of Ownership for your printer fleet. Additionally, subscribing to OE's Managed Print Services gives you the power to get the most out of your devices.
Nearly every office in every company in every industry relies on printers to provide and share data and information, whether internally or with customers. Focus on these five areas to choose the best devices for your needs.
1. Go Big or Go Home
Whether creating big jobs, little jobs, a single-page email or a full-color brochure, using a printer that overheats easily or slowly churns out pages leads to unnecessary headaches and slowdowns. Select a printer with a higher capacity – having at least one 500 sheet paper tray – and check the monthly duty cycle. Also, be sure to always buy high-yield toner or ink cartridges. This reduced the cost per page, regardless of the size of your job. (By the way, if any of this sounds complicated, Office Essentials has experts ready to help you make the right choice.)
2. Multi-Tasking is King
You can still buy printers today that act as single-function, print-only devices, and it makes sense to do so when you know you don't need to fax, copy, or scan at that location.
Multifunction devices, though, provide a greater breadth of use and can mean the difference between completing your job in one place and needing to run back and forth down the hall to that copier or stand-alone scanner. Be sure the printer allows you to scan and fax over a network rather than solely through a USB connection. Connectivity and mobility factor now more than ever into how business works. Which leads nicely into our next area:
3. Wireless Printing Capability
Forcing your employees to be plugged into a single workstation or connection can severely limit how quickly and efficiently they complete their daily tasks. The ability to print from anywhere in the office or even send print jobs to remote devices not only makes sense but saves time and money.
Connectivity can be augmented with mobile applications like this one from HP. Utilizing a wireless approach to your printers also eliminates the clutter of extra cords and cables, leaving a cleaner and sleeker office look.
4. Reporting & Alerts
All printers experience problems, however small they may be, during their lifespans. If you know immediately when a problem occurs, you can quickly work to resolve it and get your print job back on track. From simple problems like paper jams or an open tray door to more complex issues like application errors, or any other reason for a printing job denial, many printers today can have a notification emailed straight to your inbox eliminating much of the guesswork in getting up and running again.
In addition to notification capability, also look for a printer that provides regular usage reports AND take advantage of software such as Print Audit (that OE offers for free to our MPS customers) that allows you get an in-depth look at which employees are using the printer the most, the costs of printing and a variety of other factors that keep your printing processes and small business running smoothly.
And finally, whether you decide to take advantage of OE's Managed Print program or not, select devices that provide the following:
5. Ink & Toner Reordering
It can be frustrating to send documents to the printer only to find out that the ink, toner or paper has already run out. Many printers send notifications when supplies are low, giving you the chance to add needed materials to your reorder list. But one function goes a step further by doing the reordering for you. Printers that automatically reorder new supplies when they are nearly depleted save you time and effort from having to remember to stock up.
Whether it's paper, toner, ink or other supplies, a printer that puts the order in for you means resources automatically arrive at your office, helping to keep your business running efficiently. Office Essentials is strategically positioned to help you do that, further freeing up your valuable time and helping you increase your bottom line. Contact us today and find out how!