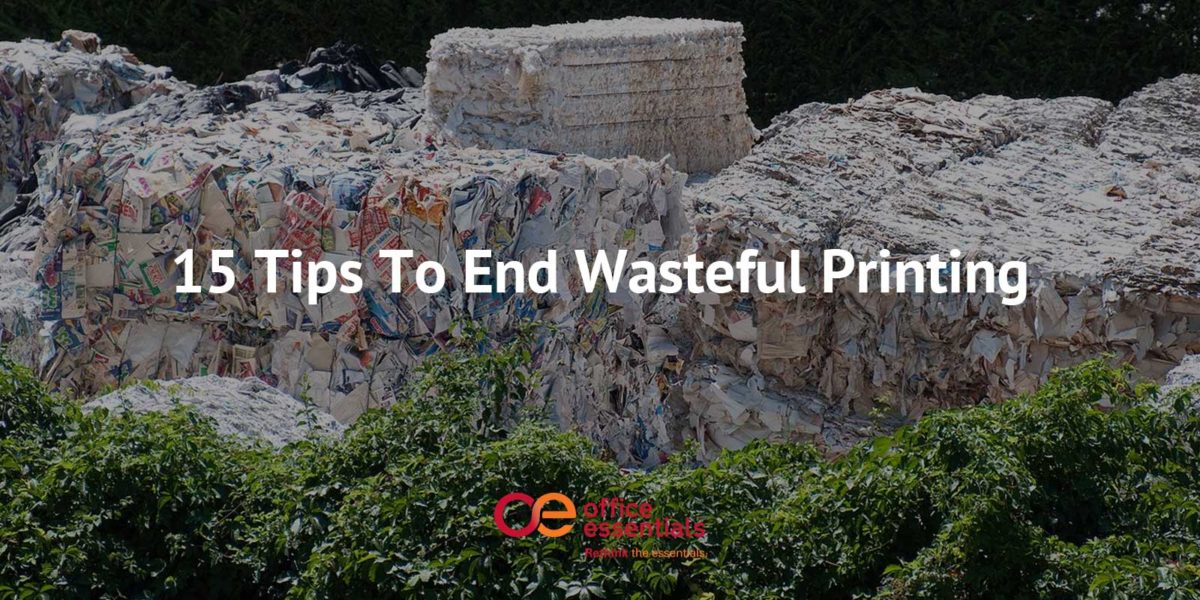 Managed print services can reduce paper and toner usage anywhere from 15% – 30% in hard costs. These tips can help you save even more.
Research shows that organizations spend anywhere from 1 to 6 percent of their annual revenues on office copying and printing. Even if your organization falls at the low end of the range, that's a lot of paper and most likely a lot of waste. If you really want to cut into that expense, you have to print less, and Office Essentials' managed print program is the only one out there dedicated to helping you do just that. In the meantime (or in addition), these 15 tips to end wasteful printing can help you save even more.
Did you know that the average worker prints 13,000 pages per year, with one in seven pages never being used? Now more than ever, companies need to educate employees on ways to end wasteful printing.
Avoid printing emails and drafts.
Scan and distribute documents via email.
Archive copies electronically.
Use print preview to avoid wasteful printed mistakes.
Print only the pages you need, not the whole document.
Print in draft mode to save toner.
Use high-yield cartridges to avoid unnecessary shipments and waste.
Print multiple pages on a single sheet whenever possible.
Use certified, lower-weight or recycled papers to save resources.
Use workgroup and MFPss rather than individual desktop printers.
Use double-sided automatic settings.
Use separate collection boxes for paper recycling.
Return your empty cartridges to Office Essentials for recycling.
Do not deactivate the power saver mode — save energy.
Use all eco-mode options as preset.
Save Money: Use Managed Print Services from Office Essentials. We're dedicated to helping you print less and save more money.
With print management, you can further improve the efficiency of your output environment by helping to reduce unnecessary printing. This solution delivers secure access control and robust usage reporting, and at the same time, provides greater mobility and productivity for your users.
For more information on Office Essentials print management offering, visit our managed print services page or send us an email today.